Saudi terror suspect Aldawsari denies Texas charges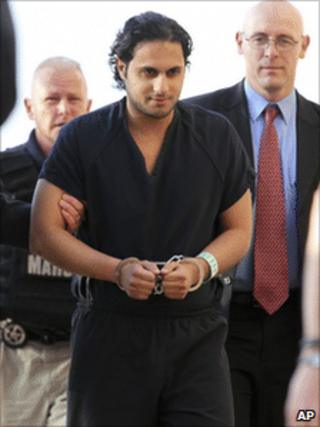 A Saudi student has pleaded not guilty to charges he sought to make a bomb and planned terror attacks in the US.
Khalid Ali-M Aldawsari, 20, is charged in Texas with attempted use of a weapon of mass destruction. If convicted, he faces life in prison.
His list of targets allegedly included the house of former President George W Bush in Texas.
Prosecutors say Mr Aldawsari bought a gas mask, hazardous materials suit and toxic chemicals for use in bomb-making.
Mr Aldawsari is in the US legally on a student visa, and was studying business at South Plains College near Lubbock in Texas, the justice department said.
A jury trial is due to begin in federal court in Lubbock on 2 May.
'Toxic chemicals'
Investigators said in February Mr Aldawsari had ordered the toxic chemical phenol, which can be used to make explosives, telling the supplier he wanted it for "off-campus, personal research".
The supplier became suspicious and reported the contact to the FBI; Mr Aldawsari later cancelled the order, the justice department said.
Mr Aldawsari succeeded in purchasing 30 litres (6.6 gallons) of concentrated nitric acid and 11 litres of concentrated sulphuric acid, prosecutors said.
He planned to use a mobile phone as a remote detonator and purchased other items to assist with bomb-making - a gas mask, hazardous materials suit, soldering iron, glass beakers and a stun gun, the justice department said.
Mr Aldawsari drew up a list of US targets to attack, including Mr Bush's Dallas residence and 12 reservoir dams in Colorado and California, investigators allege.
Prosecutors have informed US District Judge Sam Cummings they intend to use evidence derived from foreign intelligence operations in the trial.
On 9 March, Judge Cummings ordered attorneys on both sides not to speak to the news media about the case.