US census shows Hispanics led growth in population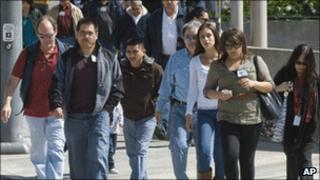 The US Hispanic population soared in the past decade, comprising more than half of US population growth in that time, new 2010 census figures show.
The Hispanic population grew by 43% to 50.5m, or 16% of the total, while the non-Hispanic population grew 5%.
The non-Hispanic white population grew only 1%, shrinking as a portion of the total to 64%, down from 69% in 2000.
The 2010 shifts were down to Hispanic immigration and whites' declining birthrate, the census bureau said.
California's Hispanic children
Population data released on Thursday by the US Census show that while the non-Hispanic white population remains the US majority, the population is ageing and its growth has slowed considerably.
The total US population grew to 308.7 million between 2000 and 2010, though growth slowed to the lowest rate since the 1930s.
Meanwhile, Hispanic and Asian populations have grown considerably, in part because of high levels of immigration, demographers said. More than half of California's children are now of Hispanic origin.
The Asian population grew faster than any other major race group between 2000 and 2010, and now comprises about 5% of the US population.
"This really is a transformational decade for the nation," demographer William Frey, of the Brookings Institution thinktank, told the Associated Press.
"The 2010 census shows vividly how these new minorities are both leading growth in the nation's most dynamic regions and stemming decline in others. They will form the bulk of our labour-force growth in the next decade as they continue to disperse into larger parts of the country."
Nearly half the population of the US West was Hispanic, a category based on origin that the Census tallies separately from racial groups like Asian, white and black (because Hispanic people can be of any race).
The decennial census is used to reapportion Congressional seats among the 50 states. Eight states gained additional seats in Congress - Texas, Florida, Arizona, Georgia, Nevada, South Carolina, Utah and Washington.
Ohio and New York will lose two House seats each, and Illinois, Iowa, Louisiana, Massachusetts, Michigan, Missouri, New Jersey and Pennsylvania will each lose one seat.
The redistricting could represent a net gain of about six seats for the Republican Party, analysts suggest, although the Census figures indicate overall growing political clout for US Hispanics, who in recent years have voted overwhelmingly Democrat.