Royal wedding: Stephen Harper unlikely to attend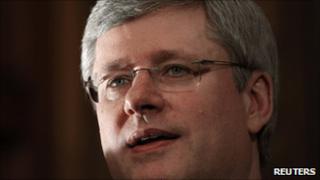 Canadian PM Stephen Harper is unlikely to attend Prince William and Kate Middleton's wedding in London next month, officials have said.
He will instead stay at home to focus on leading his Conservative party in an election likely to be called for 2 May.
Parliament's opposition parties rejected the Conservative budget plan on Tuesday and a no-confidence vote in the government is expected on Friday.
Mr Harper and his wife Laureen had accepted an invitation to the wedding.
Prince William and Ms Middleton are to be married at Westminster Abbey on 29 April. In June, they are expected to visit Canada, their first official trip outside Britain as a married couple.
Canada's Liberal Party has led a united coalition of the parliament's opposition parties in opposing the Conservatives' budget plan, calling Conservative fiscal policies "out of touch with the economic needs and priorities of Canadian families".
The Conservative minority government needs the support of at least one opposition party to pass its budget or any legislation.
On Wednesday, the Liberal Party said it would force a no-confidence vote on Friday, and fellow opposition parties the New Democratic Party (NDP) and Bloc Quebecois said they would back the move.
If it passes as expected, parliament would be dissolved and the fourth parliamentary campaign in seven years would begin immediately.
The confidence vote stems from a ruling on Monday that the Conservative government was in contempt of Parliament.
A parliamentary committee judged that Mr Harper's government had acted in contempt by failing to disclose the full costs of spending on programmes involving tougher crime legislation, corporate tax cuts and plans to purchase stealth fighter jets.