US Senators ask phone firms to ban drink-drive apps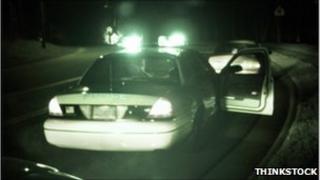 A group of US senators has asked smart phone firms to cease distributing apps said to enable drivers who have been drinking to avoid police checkpoints.
Four Democrats wrote to the executives at Apple, Google and Research in Motion, which makes Blackberry devices.
The applications are said to enable users to alert one another to locations where police are stopping motorists.
The senators said the apps put innocent people at risk and asked the companies to remove them from online stores.
In cities and towns across the US, police set up checkpoints at which they aim to catch motorists who have been drinking.
Those suspected of driving while drunk are required to submit to an alcohol test if requested.
'Drink-driving database'
"Giving drunk drivers a free tool to evade checkpoints, putting innocent families and children at risk, is a matter of public concern," Senators Frank Lautenberg of New Jersey, Harry Reid of Nevada, Charles Schumer of New York and Tom Udall of New Mexico wrote.
The letter was addressed to Google chief executive Eric Schmidt, Research in Motion's James Balsillie and Michael Lazaridis, and Scott Forstall, an Apple executive in charge of iPhone software.
Google makes the open-source Android software used in several devices that compete with the Apple iPhone.
The letter cited apps with as many as 10 million users which purport to offer a database of police checkpoints that is updated in real-time.
More than 10,000 people are killed on US roads every year in accidents involving a drunk driver, according to the US department of transportation.
A Google spokesman noted that the letter did not name specific apps but said, based on the senators' descriptions, that they did not appear to violate the company's content policies.
Apple and Research in Motion did not immediately respond to requests for comment.