Canadian opposition parties 'to reject Harper budget'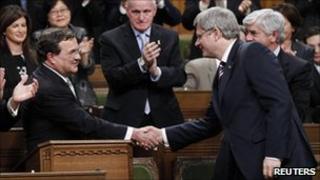 All three Canadian opposition parties say they will vote against a budget presented by Prime Minister Stephen Harper's Conservative government, a move that could prompt an election.
The Liberals and the Bloc Quebecois said they would reject the budget plan, delivered to politicians on Tuesday.
The left-leaning New Democratic Party (NDP) also said it could not support the budget in its current form.
If it is defeated, Mr Harper will be forced to call an election.
Finance Minister Jim Flaherty is thought to have offered concessions to the New Democrats, but the party's leader Jack Layton responded by saying Mr Harper had missed the opportunity to make the minority Parliament work.
"The NDP will not be supporting the budget as presented," Mr Layton said.
Michael Ignatieff, leader of the opposition Liberals, also said the group would be "forced to reject" the federal budget.
A vote on the proposed budget is expected to take place on either Thursday or Friday.
'Growing deficit'
The prime minister's budget calls for corporate tax cuts.
But the opposition parties have argued that a growing deficit is plaguing the country, and it will only worsen if tax cuts take place.
They have also argued against Mr Harper's plans to spend $9bn (£5.6bn) on 65 F-35 Joint Strike Fighters for the military, which will cost the country at least another $5bn in maintenance costs.
The minority Conservative government needs the support of at least one of the opposition parties to pass its budget and avoid a new election, which could be held in early May.
If an federal election does take place - which would be Canada's fourth in seven years - little is expected to change.
Mr Harper's Conservative government, which has emphasised economic recovery over the past few years, is expected to win if the election moves forward but not outright, meaning it would still govern with a minority.
Canada has recovered all the jobs lost during the economic downturn and repaired its economy faster than many other industrialised nations.