Mental exam for Giffords shooting suspect Loughner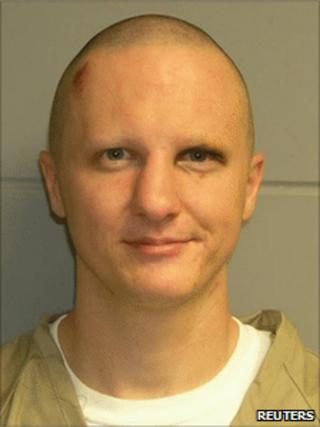 A judge has ordered the man charged in the January shooting rampage in Arizona to undergo a mental evaluation to see if he is competent to stand trial.
The evaluation at a specialist facility in Missouri will be filmed.
It will not examine whether Jared Lee Loughner, 22, was sane at the time of the shooting in Tucson, which left six people dead and 13 injured, including Congresswoman Gabrielle Giffords.
Mr Loughner has pleaded not guilty to 49 charges stemming from the attack.
They include killing US District Judge John Roll and Mrs Giffords' aide, Gabe Zimmerman, and attempting to kill Mrs Giffords and two other aides.
Mr Loughner is also charged with causing the deaths of four others, including a nine-year-old girl, who were not federal employees, causing injury and death to participants at a "federally provided activity", and using a gun in a crime of violence.
In total, 14 of the charges are punishable by death. However, prosecutors have not yet said if they will pursue the maximum penalty.
Mental disease or defect
Mr Loughner will travel to the Bureau of Prisons facility in Springfield, Missouri, because prosecutors had argued that his evaluation should take place at a medical referral centre that provided forensic services and had increased resources.
His lawyers had wanted the exam to be done by an expert at a prison in Arizona, as it might disrupt their relationship with him. They also wanted assurances that it would be limited to ascertaining whether their client was competent to stand trial, not whether he was sane on 8 January.
Judge Larry Burns ruled against the defence's first request, saying the relocation to Springfield was "unavoidable", but agreed with the second.
"The question at issue is whether the defendant is presently suffering from a mental disease or defect rendering him mentally incompetent to the extent that he is unable to understand the nature and consequences of the proceedings against him, or to assist properly in his defence."
The judge ordered that the exam be conducted no later than 29 April, and said he expected a report to be submitted by 11 May.