Blues pianist Pinetop Perkins dies aged 97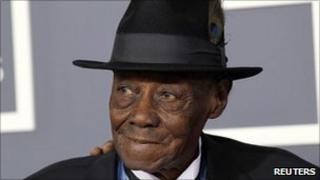 Grammy award winning blues pianist Pinetop Perkins has died at the age of 97, his manager has announced.
Perkins, who died at his home in Austin, Texas, became the oldest-ever Grammy winner only last month winning for best traditional blues album.
His agent Hugh Southard said he died of cardiac arrest after waking up with chest pains on Monday.
In a career spanning eight decades, Perkins toured with Ike Turner in the 1950s and later with Muddy Waters.
Perkins also won Grammy awards for Lifetime Achievement in 2005 and for Best Traditional Blues Album in 2007.
Despite his age, he played regularly at blues clubs in the Austin area. His agent told the Associated Press news agency he had more than 20 performances booked this year.
"He is the blues, he is the epitome of it," Mr Southard said. "He lived it, breathed it."
Once asked about his longevity, Perkins said: "I always try to do something different all the time."
Another blues legend, BB King, said: "He was one of the last great Mississippi Bluesmen, and he sure could play the piano. He will be missed not only by me, but by lovers of music all over the world."
His agent said that his tastes were simple.
"Two cheeseburgers, apple pie, a cigarette and a pretty girl was all he wanted," Mr Southard said.