Women 'under-represented in world newsrooms'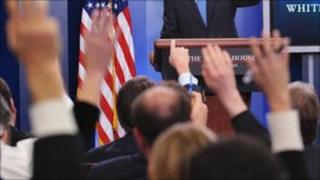 Nearly three-quarters of top management jobs in news media across the world are held by men, as are two-thirds of reporting jobs, a new study has found.
But the International Women's Media Foundation in Washington found 41% of senior anchors, writers, editors and producers in the industry were women.
Women were best represented in Europe and worst in Asia, the study of 170,000 people in 522 news companies found.
But the survey found no significant improvement from a smaller 1995 study.
Across the entire newspaper, radio and television workforce studied, the survey found 65% of jobs were held by men, compared to 35% by women.
"There is still quite a lot of work to be done to achieve some sort of equal footing in the industry," said Liza Gross, executive director of the International Women's Media Foundation.
Egalitarian Eastern Europe
The study did not address the affects the disparity has on the news media product, findings Ms Gross expected from a future study.
Among the news organisations studied, the survey found the most gender equity in 85 newsrooms of Eastern Europe, in Bulgaria, Estonia, Hungary, Lithuania, Poland, Romania, Russia and Ukraine.
There, men's and women's salaries were comparable across all levels in the profession, a finding the survey authors attributed to the Soviet-era practice of educating women and moving them into the work force in great numbers.
In 47 newsrooms surveyed in France, Germany, Spain and the UK, women were nearing parity with men among the ranks of "junior professionals", a category which included correspondents, writers, sub-editors, producers and presenters.
But the survey reported women hit a "glass ceiling" at the senior professional level, holding only roughly a third of jobs in middle management and a quarter in top management.
In the 14 newsrooms surveyed in the US, women comprised about 41% of the total workforce, but were under-represented in the executive ranks, filling only 23.3% of the top management jobs, the survey found.
Under-represented in Asia
"Women have been successful in gaining access to US news companies in numbers approaching those of men overall, but they are not yet at parity with men in their status across occupational levels," the study found.
The study found women the most under-represented in 10 nations of Asia and the Pacific rim - Australia, Bangladesh, China, Fiji, India, Japan, New Zealand, Pakistan, Philippines and South Korea.
In Japan, for example, only one in eight newsroom jobs are held by women. The study suggested that low number was down to the relatively low rate of turnover in the Japanese workforce.