Barry Bonds drugs perjury trial jury selection begins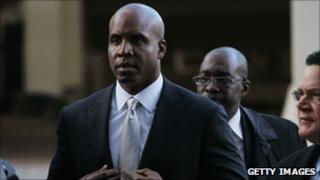 Jury selection has begun in the trial of former baseball star Barry Bonds on charges he lied when he denied taking performance-enhancing drugs.
Prosecutors say Mr Bonds lied to a federal grand jury in 2003 during an inquiry into an alleged doping ring.
The former San Francisco Giants player, who holds baseball's home run record, has pleaded not guilty.
Several former professional athletes are expected to testify, as is Mr Bonds' former girlfriend.
Mr Bonds, who was first indicted in 2007, is charged in federal court with four counts of lying to a grand jury and one count of obstruction of justice.
The trial is expected to last between three weeks and a month.
In 2003, the outfielder was called to testify before a grand jury about his relationship with Greg Anderson, a personal trainer affiliated with Balco Laboratories.
Balco is a California company prosecutors say illegally supplied steroids and other performance-enhancing drugs to athletes.
Four people have already been convicted on federal charges in connection with the company, including on drug charges and money laundering offences.
In 2003 under questioning under oath, Mr Bonds denied that Mr Anderson, a long-time friend, supplied him with performance-enhancing drugs.
In the current trial, prosecutors plan to present evidence Mr Bonds had in fact been taking drugs said to increase muscle mass and speed recovery time from injuries.
'Increased hat size'
Mr Anderson has already spent more than a year in jail after refusing to testify about his friend Mr Bonds, and is expected to defy orders to testify during the trial.
Prosecutors say they will call Mr Bonds' former girlfriend to testify about physiological changes in Mr Bonds that they say are associated with drug use. A Giants clubhouse worker is due to say Mr Bonds' hat size increased and several other former professional athletes are expected to testify that Mr Anderson supplied them with performance-enhancing drugs.
In addition, prosecutors will play for the jury a secretly recorded conversation in which Mr Anderson discusses injecting the ball player with drugs.
Mr Bonds, 46, broke baseball's home run record in 2007 with 762, shattering Hank Aaron's previous record of 755.
The son of former Major League Baseball player Bobby Bonds, Mr Bonds played with the Pittsburgh Pirates from 1986 to 1992, then played with the Giants until his retirement after the 2007 season.