US cyber war defences 'very thin', Pentagon warns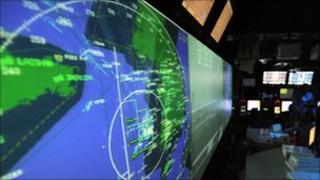 The US military lacks the people and resources to defend the country adequately from concerted cyber attacks, the head of the Pentagon's cyber command has warned.
"We are very thin, and a crisis would quickly stress our cyber forces," Gen Keith Alexander told Congress.
The US says government systems are attacked millions of times a day.
Disputes over budgets are holding up a new cyber protection system ordered by the Department of Homeland Security.
However, some argue the threat of cyber warfare is greatly exaggerated.
'Potential adversaries'
Gen Alexander, head of the US Defence Department's Cyber Command, told a Congressional Committee that he would mark as a "C" the military's ability to protect Pentagon networks, although he acknowledged improvements in recent years.
"We are finding that we do not have the capacity to do everything we need to accomplish. To put it bluntly, we are very thin, and a crisis would quickly stress our cyber forces," he said.
"We cannot afford to allow cyberspace to be a sanctuary where real and potential adversaries can marshal forces and capabilities to use against us and our allies. This is not a hypothetical danger."
US officials say cyber criminals, terrorists and other nations are getting better at penetrating state and private networks, whether to spy, to steal data or damage critical infrastructure.
But speaking last month, leading security expert Bruce Schneier told the BBC that the emotive rhetoric around "cyber warfare" did not match the reality.
"What we are seeing is not cyber war but an increasing use of war-like tactics and that is what is confusing us. We don't have good definitions of what cyber war is, what it looks like and how to fight it," Mr Schneier said.