Mexico prison warden stabbed to death during her rounds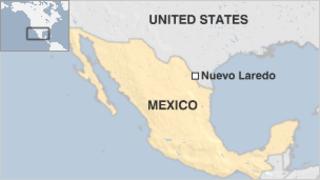 The acting governor of a Mexican prison that saw a mass escape last year has been stabbed to death during a routine inspection of the jail, officials say.
Rebeca Nicasio, whose predecessor disappeared following December's breakout, was attacked by an inmate as she toured the prison in Nuevo Laredo.
A fight had broken out between some 50 prisoners when the stabbing happened, officials said.
The jail houses about 1,000 inmates, many on drugs or weapons charges.
A knife-wielding prisoner stabbed Ms Nicasio four times, according to a statement from the Tamaulipas state attorney general's office.
The prisoner in question, who was serving time for robbery, was restrained by guards.
Ms Nicasio had been acting head of the jail for a couple of months.
Last December, some 150 prisoners escaped from the jail with the connivance of some of the guards, officials said.
The prison director disappeared in the wake of the breakout.
The northern border region has seen increasing violence as the cartels fight the security forces and battle each other for control of smuggling routes into the US.