Associated Press sues retailers over iconic Obama image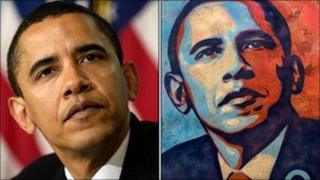 The Associated Press has sued several retailers including Urban Outfitters for the unauthorised use of the Hope image created by artist Shepard Fairey.
Artist Fairey used an AP photo without permission to create the image, and was sued by the news agency for violating copyright. That case was settled.
AP argues that using the image on T-shirts is wilful and blatant violation of the copyright of the photo.
A spokesman said that using photos for free devalued the work of journalists.
The news agency filed lawsuits against Urban Outfitters, Nordstrom and Zumiez seeking unspecified damages.
A Nordstrom spokeswoman said in a statement that the firm was aware of the lawsuit. Representatives of the other retailers have yet to respond, AP said.
In a statement, AP spokesman Paul Colford said: "When a commercial entity such as these retailers, or the company that sold the shirts to them, gets something for nothing by using an AP photo without credit or compensation, it undermines the AP's ability to cover the news.
"It devalues the work that our journalists do, often in dangerous locations where they may literally risk life and limb to cover a story."
Iconic image
Street artist Fairey used the photo, taken by Mannie Garcia in 2006, when he created his Hope artwork during Barack Obama's 2008 presidential campaign.
Fairey sued AP in 2009, seeking a declaration he had not violated its copyright with his iconic image.
AP then counter-sued, saying he had done so through his uncredited and uncompensated use of its picture.
The deal agreed in January called for both sides to work together with the image and share future rights to merchandise based on it.
As part of the deal, Fairey agreed not to use another AP photo in his work without first obtaining a licence.