Nine officers to be disciplined over Fort Hood shooting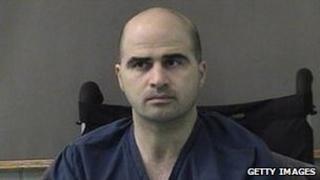 The US Army plans to discipline nine officers for failing to spot warning signs that might have prevented the Fort Hood shooting in Texas.
Army doctor Maj Nidal Malik Hasan is accused of killing 13 people and wounding 32 more in November 2009 at the military base.
The Army said certain officers had failed to meet expected standards in evaluating the career of Maj Hasan.
Action against them was recommended by Army Secretary John McHugh in a report.
The Army has not yet identified the officers involved, and it may be several weeks before action is taken.
The report found that "although no single event led directly to what happened at Fort Hood, certain officers clearly failed to meet the high standards expected of their profession", the Army said.
It has been forwarded to US defence secretary Robert Gates.
Earlier this month, a senior US commander recommended that Maj Hasan face the death penalty over the shooting.
'Devout and discreet'
Maj Hasan, 40, was born and raised in the US state of Virginia. His parents moved to the US from a Palestinian town near Jerusalem, according to his cousin.
After high school he joined the US Army, which put him through medical school.
He has been described as devout and discreet.
He is said to have been affected by injuries he saw at the Walter Reed Medical Army Center, where he worked as a psychiatrist treating troops returning from combat.
He was to have been deployed to Afghanistan, with some reports indicating he was unhappy about this.
Maj Hasan was shot by police during the attack, leaving him paralysed from the waist down.