Ice hockey player Zdeno Chara investigated over clash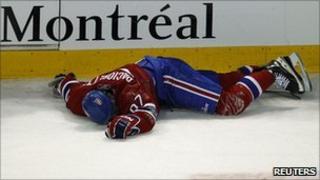 Montreal police are investigating a violent ice hockey impact between Boston Bruin Zdeno Chara and Montreal Canadien Max Pacioretty.
Pacioretty was left with severe concussion and a cracked vertebra after Chara slammed him into a glass partition during Tuesday's match.
Quebec prosecutor Louis Dionne filed his request for an investigation after seeing the match on television.
It now must be determined if there are grounds for criminal prosecution.
Although Pacioretty had to be carried off on a stretcher, the National Hockey League (NHL) said it would not suspend Chara for Tuesday night's hit.
NHL Commissioner Gary Bettman said on Thursday that Pacioretty's injury was horrific, but that it was part of the game.
Chara was given a major penalty for interference and a game misconduct on the play, and expressed regret over what had happened.
"Obviously when we go out there we take risks," he said. "And sometimes, we do get hurt. But it's just very unfortunate."
Pacioretty told a Canadian sports network he was "upset and disgusted" that the league had not suspended Chara.
"I'm not mad for myself, I'm mad because if other players see a hit like that and think it's OK, they won't be suspended, then other players will get hurt like I got hurt," he said.
A spokeswoman for Mr Dionne, who is Quebec's director of criminal and penal prosecutions, would not comment on what kind of punishment Chara might expect.
"That would depend on what charges are laid," Martine Berube said.