Peter King warns al-Qaeda recruiting US Muslims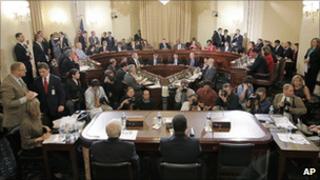 A US congressman has warned al-Qaeda is actively recruiting US Muslims for violent attacks within the country.
Representative Peter King, a Republican, spoke at a House homeland security committee hearing into the "radicalisation" of US Muslims.
He said "homegrown radicalisation" was "part of al-Qaeda's strategy to continue attacking the US".
Critics say the hearing is feeding anti-Islamic sentiment and criticise Mr King for singling Muslims out.
On Thursday, a senior Democratic congressman warned the committee not to "blot the good name" of American Muslims.
One of two Muslims in the US House, Minnesota Democrat Keith Ellison, said the hearing ran contrary to American values, and a third Democrat warned it was aiding al-Qaeda's anti-American cause.
The committee heard testimony from a Tennessee man who said his son - who shot one soldier dead and wounded another at an Arkansas recruiting post - had been manipulated by Islamic leaders in Tennessee and Yemen.
Another man said his Somali-American nephew had been inspired to embrace violence and died in Somalia after being recruited by extremists.
'Rage and hysteria'
In his opening statement on Thursday, Mr King said that US anti-terror efforts since the 11 September 2001 attacks had prevented al-Qaeda from launching major strikes on the US from outside the country, but said the Islamist group had turned to recruiting Americans for attacks.
"Al-Qaeda is actively targeting the American Muslim community for recruitment. Today's hearing will address this dangerous trend," he said.
He warned that bowing to the "rage and hysteria" the hearing had prompted would amount to "craven surrender to political correctness", and said the committee would not "dilute its focus" by examining other sorts of domestic extremism he said were less threatening.
"There is no equivalency of threat between al-Qaeda and neo-Nazis, environmental extremists or other isolated madmen," he said. "Only al-Qaeda and its Islamist affiliates in this country are part of an international threat to our nation."
Congressman John Dingell, a Michigan Democrat who represents a large Muslim community, warned Mr King and the committee not to "blot the good name or the loyalty or raise questions about the decency of Arabs or Muslims or other Americans".
"There will be plenty of rascals that we can point at and say these are the real danger to the nation that we love and that we serve," he said.
'Captured by hunters'
Mr Ellison, the first Muslim elected to Congress, said Mr King's hearing contravened "the best of American values" and threatened US security.
He called for "increased understanding and engagement with the Muslim community".
The White House has said US domestic security efforts should look at all extremists, not just focus on Muslims.
"We don't want to stigmatise, we don't want to alienate entire communities," US Attorney General Eric Holder said.
But Mr King has said some leaders of American Muslim communities have done too little to co-operate with law enforcement - an assertion Mr Holder has rejected.
On Thursday Melvin Bledsoe, whose son Carlos killed one US soldier and wounded another at a military recruiting centre in Little Rock in 2009, Arkansas testified about what he described as his son's manipulation and radicalisation by Muslim leaders.
"Carlos was captured by people best described as hunters," Mr Bledsoe said. "He was manipulated and lied to."
Abdirizak Bihi, a Somali immigrant living in Minnesota, testified his young nephew was recruited to join the al-Shabab militant group, which the US considers a terrorist organisation, and was shot to death in Somalia.
He said Somali Muslim leaders in Minnesota ostracised his family after they spoke out about the groups of young men leaving for Somalia.
Other witnesses included Los Angeles County Sheriff Leroy Baca and a Muslim-American doctor and former naval officer.