Jared Loughner pleads not guilty in Giffords shooting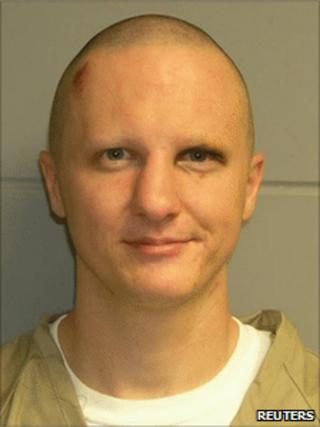 Jared Loughner has pleaded not guilty to 49 new charges, including killing a federal judge and wounding a US congresswoman, in an Arizona shooting.
Mr Loughner, 22, is charged in federal court with the murder of John Roll, the attempted killing of Democrat Gabrielle Giffords and dozens of other counts.
Six were killed in the attack; Ms Giffords was shot in the head and is undergoing intensive physical therapy.
Mr Loughner is also expected to face additional state charges.
Most of the charges Mr Loughner currently faces relate to the killing of a federal employee; use of a firearm to commit a violent crime, cause injury or death; and injuring or causing death to participants at a federally protected activity
If convicted, he could face the death penalty.
Mr Loughner, who was rejected by the US military and suspended from college over concerns for his mental health, has been in jail since the 8 January attack on Ms Giffords' constituency event at a store in Tucson, Arizona.
'Mental afflictions
US District Judge Larry Burns ruled on Wednesday that some of the records relating to a police search of Mr Loughner's home should be released.
But Judge Burns ordered some of them to remain sealed in the event the information is inflammatory or will not be admissible at trial.
Mr Loughner's mental competence to stand trial was also discussed at the hearing.
Lawyer William Kleindienst said Mr Loughner's legal team had acknowledged the defendant has "serious mental afflictions".
The judge said the issue was currently "in limbo".
Mr Loughner walked into the courtroom on Wednesday wearing prison clothes and with a smile on his face.
His father attended the hearing, keeping his head down and arms crossed throughout the proceedings, while at least two survivors of the attack and relatives of some of those killed sat quietly in the room.
A federal grand jury returned its new 49-count indictment last week, superseding the one returned in January.
Ms Giffords has made what doctors call remarkable progress, and is undergoing a course of intensive rehabilitation at Memorial Hermann Rehabilitation Hospital in Houston, the Texas city where her husband Mark Kelly works as a Nasa astronaut.