SXSW: Thousands invade Texas for music, film and web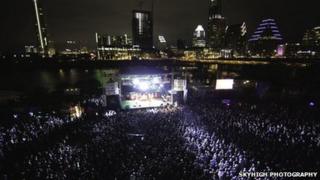 The city of Austin in Texas is braced for the arrival of tens of thousands of film, music and technology enthusiasts, all attending the annual South by Southwest (SXSW) conference. The event, which gathers some of most forward-thinking minds in all three industries, kicks off on Friday and is poised to be the biggest to date.
Individuals in dark-rimmed glasses and band T-shirts, armed with advanced mobile applications, have touched down at the city's airport and are now circulating throughout Austin's downtown, striking fear into the hearts of the area's "late adopters".
The 10-day SXSW event boasts some of the largest concerts, trade shows, technology panels, networking events, brainstorming sessions and film screenings in the US.
"It's a chance to learn new ideas, mingle, gain new insight and brainstorm with a very, very creative crowd," says Hugh Forrest, director of SXSW Interactive, the technology-oriented arm of the festival.
And that creative crowd was so large in 2010 that SXSW single-handedly pumped roughly $120m (£74m) into Austin's economy, making it the city's largest economic generator.
More than 35,000 people purchased passes to the festival last year, ranging in price from $375 to over $1,000 (£232-£617), while tens of thousands of others dashed in and out of the 90 or so venues and theatres participating in the event. This year is set to be even bigger.
"And whether it's the music, film, or interactive end of things, it's typically a place to discover new talent - whether that be a new app, like Twitter which was launched here in 2007, or a new movie," Mr Forrest says.
The popular film Hurt Locker was also first screened at SXSW two years ago, Mr Forrest adds.
Small beginnings
The event was first conceived as a music festival in 1987 by two employees of the city's newspaper and has been snowballing ever since, particularly over the past few years.
Mr Forrest, who began working at the event in 1989, says it was "much, much smaller back then".
The conference broadened its scope in 1995 to include SXSW Film and Interactive, with events on education and fashion now slowly working their way into the mix.
On an average day during the event, there could be 100 different musical showcases going on simultaneously, Mr Forrest says.
The interactive and film portions of the event, which run several days prior to SXSW Music, also boast some 40 panels and five screenings respectively at any given time.
"People have compared it to a real-life internet-type experience in the sense that on the internet you can go to a trillion different sites, and if you don't like what you're doing here, you can go on to the next thing easily," Mr Forrest says.
Brian Warren, a web designer and developer at Happy Cog, a design studio considered a leader in its field, agrees the event offers up endless choices. But he says that its size these days can make it "completely unmanageable".
Mr Warren has attended SXSW Interactive each year since 2006 and remembers a time when there were only a handful of panels each day.
"If you look at the schedule now, I can't even imagine figuring out what I would want to do," he says.
But Mr Warren is quick to admit that despite having to navigate increasing droves of the tech elite each year, the festival still holds a special place in his heart because of the success he has had networking there.
"It's hard to imagine how I would have ever started my own business, immersed myself in the community of design on the web and gotten to where I am today without it," he says, adding that Austin is a "really great city".
'Exhausting mess'
Ryan Kattner, the lead singer of the five-piece experimental band Man Man, credits SXSW with providing them with networking opportunities, some of which have led to other gigs and a European tour manager.
The band, which hails from the state of Pennsylvania, is in its 10th year and will be playing SXSW Music for the sixth time beginning next week.
"You can really make an impact and get your stuff out there," Kattner says.
He calls the festival the "hub of the music industry" and explains that music agents and record companies at SXSW are always on the lookout for the next big band.
"And it's strange because even though it is an industry feeding frenzy, there's also a sense of camaraderie and community amongst other bands," he says.
But he warns there are "thousands of bands, so you are just as easily going to get swept beneath the waves".
Despite that, Mr Kattner says he is excited to head back to Austin, adding that it is an "exhausting mess" he looks forward to each year.
Back in his office, Mr Forrest acknowledges the festival has become over-stimulating in recent years, but he says SXSW offers up a feeling unlike any other during those 10 days.
"Lots of people really fall in love with Austin in March, but you have to say this isn't really what it's like for the other 51 weeks of the year."