Profile: Gary Locke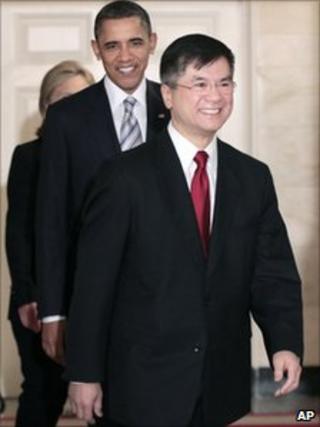 Commerce Secretary Gary Locke is not exactly a headline-grabber. And in Washington, that's a good thing.
President Barack Obama's softly-spoken choice to replace Jon Huntsman as ambassador to China is a quiet achiever in the cabinet, working hard and shunning controversy.
A family man with a squeaky-clean personal life, Mr Locke is also somewhat of a groundbreaker.
Born in Seattle to a third-generation Chinese-American family, Mr Locke didn't speak English until he was five years old.
He went on to become the only Chinese-American to have served as a state governor and the first Chinese-American commerce secretary.
But he was not Mr Obama's first choice for the latter role. Governor Bill Richardson had that honour, but withdrew himself from the running because of an investigation into a transportation contract he awarded to political donors while New Mexico governor.
Republican Senator Judd Gregg was Mr Obama's second choice - and his way to make good on promises of post-partisanship. But he, too, withdrew his nomination, citing economic policy differences.
Faced with picking a third nominee for the commerce post in a matter of weeks, Mr Obama opted for a safe bet: Gary Locke.
Mr Locke sailed through the confirmation process and has reportedly become well-liked within both the political and business communities.
Trade promotion
Mr Locke is proud of his Chinese-American identity and has used his public profile to encourage China-US ties. He even carried the Olympic torch during the relay ahead of the 2008 Olympics in Beijing.
"I'm going back to the birthplace of my grandfather, my father, my mom and her side of the family, and I'll be doing so as a devoted and passionate advocate for America, the country where I was born and raised," Mr Locke said on Wednesday.
He said he was eager to help the Obama administration "manage one of America's most critical and complex diplomatic, economic, and strategic relationships".
His nomination as ambassador must still be confirmed by the US Senate.
Mr Locke travelled to China three times on trade missions while governor of Washington.
He fostered relations with big businesses in his state - including Microsoft, Starbucks and Boeing - which see significant benefits in opening up relations with China.
His nomination was welcomed by the business community.
"Gary Locke has advanced our country's relationship with China while serving as Commerce Secretary and his nomination as US Ambassador to China is an inspired choice," Jim Rogers, chief executive of energy giant Duke, said in a statement.
'American Dream'
When he left the governor's mansion in 2005, retiring after two terms, Mr Locke continued to promote US-China trade as a lawyer and private citizen.
He was reportedly instrumental in encouraging President Hu Jintao to visit Seattle, in Washington, during his first state visit to the US in 2006.
Mr Locke's grandfather was the first of his forebears to come to the US, arriving aboard a steamship. He worked as a domestic servant in Washington state in exchange for English lessons.
His father joined the US Army, serving under General Patton in World War II.
"As the grandson of a Chinese immigrant who went on to live the American Dream, Gary is the right person to continue this co-operation," Mr Obama said when announcing his nomination.
Mr Locke's career grew from humble beginnings, working in his father's restaurant.
A bright student and a boy scout, he gained entry to the prestigious Yale University and later studied law at Boston University.
He married his wife, Mona Lee, another Chinese-American who worked as a reporter for NBC news, in 1994. The couple have three children.