St Louis gunfight: Deputy marshal dies from wounds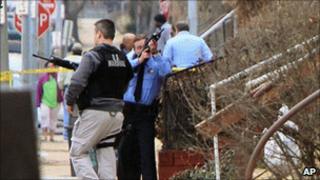 A US deputy marshal shot in the head in a gunfight in St Louis has died from his wounds, police said.
Another deputy marshal and a police officer were also shot and wounded while trying to arrest a man wanted on drug and assault charges.
The suspect, named by police as Carlos Boles, 35, was also killed in the gun battle.
Police used dogs to keep back an angry crowd as detectives scoured the suspect's home after the shooting.
The fatally wounded deputy marshal, John Perry, 48, died at Saint Louis University Hospital, officials said.
Deputy marshal Theodore Abegg was shot in an ankle and an unnamed police officer suffered a minor facial wound.
The charges against Boles stemmed from an incident in October last year in which he punched an officer in the neck as the officer tried to arrest him for drug possession.
Police said officers entered his home and saw him on the second floor. It was then that Boles started shooting, they said.
After the shooting, dozens of spectators gathered at the scene as police in tactical gear scoured the home.
As police began to disband, some bystanders shouted obscenities at them and officers used police dogs to keep angry spectators at a distance.