Obama names Gary Locke new US ambassador to China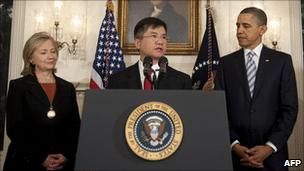 President Barack Obama has nominated Commerce Secretary Gary Locke as the new US ambassador to China.
If confirmed by the US Senate Mr Locke will replace current ambassador Jon Huntsman, who is due to leave the post on 30 April.
Mr Huntsman announced his resignation last month, fuelling speculation he may be preparing a 2012 White House bid.
Mr Locke, whose father was born in China, was the first Chinese-American to serve as US commerce secretary.
"Our relationship with China is one of the most critical of the 21st century," Mr Obama said at the White House on Wednesday, flanked by Mr Locke and Secretary of State Hillary Clinton.
"As the grandson of a Chinese immigrant who went on to live the American dream, Gary is the right person to continue this cooperation."
Mr Locke's grandfather emigrated from China to Washington state in the north-western US, taking a job as a household servant in exchange for English lessons, according to his official biography.
His father, also born in China, ran a grocery store and served in the US Army during World War II.
"I'm going back to the birthplace of my grandfather, my father, my mom and her side of the family," Mr Locke said at the White House. "And I'll be doing so as a devoted and passionate advocate for America, the country where I was born and raised."
Mr Locke, who joined the Obama administration in March 2009, is a former two-term Democratic governor of Washington state.
As commerce secretary, he has long overseen negotiations with China on trade issues.
He has urged Beijing to move further and faster to open its markets to foreign firms, to loosen its currency controls, and to clamp down on rampant piracy of intellectual property.
President Obama has set a goal of doubling US exports in five years to help America's economic recovery.
Mr Locke's appointment as ambassador to China, the world's fastest growing major economy, and one with which America has a huge trade deficit at a record $273bn (£168bn) last year, will be a key part of that strategy, says the BBC's Damian Grammaticas in Beijing.
Mr Huntsman, a Republican former Utah governor, was appointed Beijing envoy by Mr Obama in 2009.
Before that, he was intimately involved in the 2008 US presidential election as national co-chair of Senator John McCain's campaign.
In an interview with Newsweek magazine in January, when he was asked about presidential ambitions, the 50-year-old replied: "We may have one final run left in our bones."
The White House has declined to speculate on Mr Huntsman's future plans.