Spider web fire risk prompts Mazda6 recall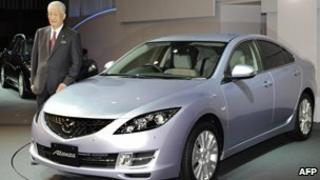 Japanese carmaker Mazda has announced it is recalling 65,000 cars in North and Central America because of concerns over spiders in the fuel system.
A Mazda spokesman said dealers had found 20 cases where webs of yellow sac spiders were found in a vent line.
The company said this could increase pressure in the fuel tank, leading to possible cracks and a risk of fire.
Dealers will check the cars for cracks, clean out any webs and install a spring in the line to keep out the spiders.
About 50,000 Mazda6 vehicles from the 2009-10 model years are being recalled in the United States, with another 15,000 in Canada, Mexico and Puerto Rico.
Mazda spokesman Jeremy Barnes said it was not clear why the yellow sac spider liked to build nests in the Mazda6.
"Perhaps yellow sac spiders like to go zoom-zoom?" he joked, referring to Mazda's advertising slogan for the car.
The company said it did not know of any accidents or fires caused by the spider webs.