Northwestern University sex toy show 'disturbing'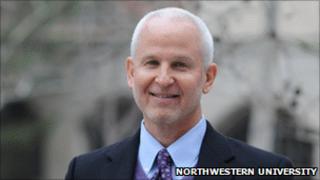 A US university president has said he is "disturbed" that a psychology professor allowed a demonstration of a motorised sex toy in a lecture hall.
Morton Schapiro of Northwestern University called the decision to allow a naked woman to demonstrate use of the device last month "poor judgement".
About 100 students observed the proceedings following a lecture session for a class on human sexuality.
Attendance was voluntary and students had been warned what to expect.
Controversial topics
On 21 February, psychology professor Michael Bailey held a lecture on sexual arousal, with a focus on certain aspects of female physiology, according to a statement he released on Wednesday.
Prof Bailey said another guest lecturer, Ken Melvoin-Berg, had proposed the demonstration and he could not think of a legitimate reason why the students should not have that opportunity in the name of inquiry.
"Student feedback for this event was uniformly positive," Prof Bailey said.
The demonstrator, Faith Kroll, told the Chicago Tribune she enjoyed the attention.
"I was more than happy to," she said. "We had fun with it. I'm an exhibitionist."
On Thursday, Mr Schapiro said in a statement it was in the nature of a university to teach and research controversial topics.
But he said the demonstration "represented extremely poor judgement on the part of our faculty member" and said he was "troubled and disappointed".
"I simply do not believe this was appropriate, necessary or in keeping with Northwestern University's academic mission," he said.
He promised an investigation and to clarify "what constitutes appropriate pedagogy".