US and Mexico reach proposed deal over trucking dispute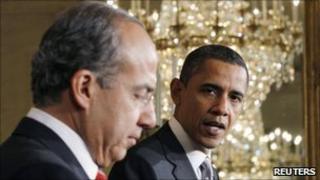 The US and Mexico have reached a proposed deal to open US highways to Mexican trucks, raising hopes of an end to a 20-year dispute.
US President Barack Obama said the nations had "found a clear path to resolving" the roadblock in relations.
In a news conference with Mexico's Felipe Calderon, Mr Obama pledged to speed aid to Mexico's anti-drug effort.
The Mexican president's two-day visit to Washington comes amid increasing tensions between the two nations.
The announcement of the trucking deal comes roughly two weeks after the killing of a US agent in Mexico and leaked US criticism of Mexico's war on drugs, both of which have soured a relationship between the nations that had appeared to be improving in recent years.
Retaliation
US and Mexican carriers were authorised to cross the border under the 1994 North American Free Trade Agreement, but the US has refused to allow Mexican trucks access over concerns of their ability to meet US safety and environmental standards.
American truckers have opposed opening US roads to Mexican truckers, arguing the move would cost US lorry drivers' jobs.
Mr Calderon's government last year retaliated with tariffs on a number of US goods after US lawmakers cancelled funding for a pilot programme that allowed long-haul Mexican trucks to circulate in the US.
Teams are still working out the details of the agreement and are expected to send the plan to Congress this spring, an Obama administration official told the Associated Press news agency.
"I look forward to consulting with Congress and moving forward in a way that strengthens the safety of cross-border trucking, lifts tariffs on billions of dollars of US goods, expands our exports to Mexico, and creates jobs on both sides of the border," Mr Obama said.
Tom Donohue, president of the US Chamber of Commerce, said the trucking deal would promote job growth on both sides of the border, and called for an end to Mexico's tariffs.
'Extraordinary courage'
Mr Obama also announced the US would soon look to "develop new sources of energy in the Gulf of Mexico" with the help of the Mexican government.
And he went on to praise Mr Calderon for his "extraordinary courage" in fighting drug cartels and cracking down on violence near their shared border.
Mr Obama said the US planned to send equipment to Mexico and train officials in the country to help in the efforts to combat violence.
He also said the US had to curb the flow of powerful weapons - which are easily acquired in US border states - to Mexico to arm the drug cartels.
"Mexico has a full partner with the United States," Mr Obama said, adding that US citizens had a "right to be safe in their communities".
Mr Calderon met US business leaders on Wednesday evening, with discussions focusing on opportunities for foreign investment in Mexico.
Agent's death
Tensions between the countries have risen sharply since US Immigration and Customs Enforcement agent Jaime Zapata was shot dead in northern Mexico roughly two weeks ago, reportedly with a weapon that came from the US.
"His death must urge us to work together to ensure a prosperous and peaceful future for our region," Mr Calderon said on Thursday.
On Sunday, the Mexican military arrested the suspected local head of Los Zetas drugs gang in the northern state of Coahuila.
Another alleged member of the gang has been arrested on suspicion of carrying out the killing.
US and Mexican officials said Mr Calderon's trip had been arranged before Mr Zapata's death.