Obesity rate lower in Canada than in US, study shows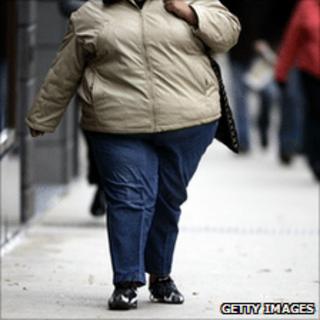 Canada has a significantly lower rate of obesity than does the US, a new US government study has shown.
More than a third of Americans are obese, compared to about a quarter of Canadians, the Centers for Disease Control (CDC) has concluded.
The study found that both countries' obesity rates have grown significantly in the past two decades.
Co-author Cynthia Ogden said the reasons for the difference were unclear and called for further investigation.
In the study of data collected 2007-2009, the US agency attributed a small portion of the difference to the much larger percentage of black and Hispanic people in the US, since both demographics are more prone to obesity.
When comparing only the non-Hispanic white populations of the two countries, 25.6% of Canadians were obese, compared with 33% for the US. Over the whole population, the figures were 24.1% and 34.4%, respectively.
Obesity is determined using body mass index, which compares a person's weight and height.
A BMI of 30 or above is considered obese.
The CDC has written that US society encourages obesity by promoting overeating, poor diet and physical inactivity, and has described childhood obesity as an epidemic.
Obesity has been linked to heart disease, diabetes, certain cancers, high blood pressure and a litany of other ailments.