Canada deploys warship to Libya to aid evacuation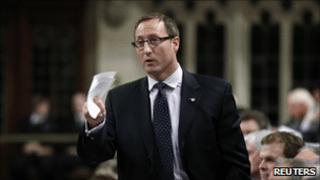 Canada is deploying a warship to the waters off Libya to assist in the evacuation of Canadian citizens, Prime Minister Stephen Harper has said.
Meanwhile, the country moved to freeze $2.3bn (£1.4bn) in Libyan assets, Canadian media reported.
And Canadian singer Nelly Furtado has pledged to donate to charity $1m she received for a 2007 private concert for Libyan leader Col Muammar Gaddafi.
Col Gaddafi has rejected calls to leave amid protests that have riven Libya.
'No military action'
In Ottawa, Canadian Defence Minister Peter MacKay told reporters the frigate HMCS Charlottetown would leave Halifax for the Mediterranean Sea off Libya on Wednesday and that the voyage would take six days.
He said the 4,750-tonne ship could be used to enforce a potential Nato- or UN-approved naval blockade.
"There are no plans whatsoever at this point that involve Canadian soldiers taking military action," Mr MacKay told the Canadian Broadcasting Corporation.
"Our focus is evacuating Canadians, getting them safely and quickly out of harm's way, [and] getting them out of the country."
On her Twitter page, Furtado said she had performed a 45-minute show for the Gaddafi family for a $1m fee.