The women accusing Walmart of sex discrimination
By Rajini Vaidyanathan
BBC News, Washington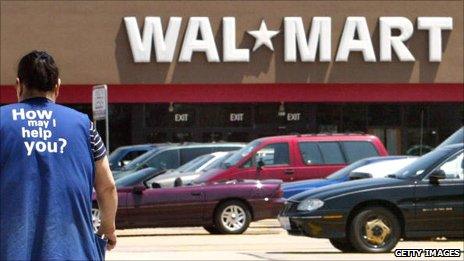 If it goes ahead, it will be the largest sex discrimination lawsuit in American history. The US Supreme Court will soon decide whether to allow a class action on behalf of more than a million women - against the world's largest retailer, Walmart.
In one corner is Walmart, the supermarket giant which says it treats all of its staff fairly.
In the other, a group of six women, who believe they and Walmart's other female staff were paid less and missed out on promotion because of their gender.
Chris Kwapnowski, who has worked at the store for most of her adult life, is one of them.
As the 47-year-old looks back on her career, she recalls numerous occasions when it seemed to her she was passed up for promotion in favour of less experienced male colleagues.
"I asked what I needed to do to get promoted and my manager said I should 'doll up and blow the cobwebs off my make-up,'" she says.
Ms Kwapnowski, who started working for Walmart in 1986 and still works at a store in California, also claims that for the first 15 years she failed to get pay rises when her male colleagues did.
On one occasion, she says, when she questioned why a less experienced male counterpart was given a pay rise and she was not, she was told it was because her colleague had a family to support.
But she is a mother herself.
"My gut reaction was that I was being mistreated by the company I had put years into," she says.
"It's not great when you've had more responsibility than the man who is paid more than you."
Betty Dukes, who worked at another branch in California, claims she too was passed over for promotions and pay.
She started with Walmart greeting customers at the front of the store, and her hopes of a better job were repeatedly frustrated.
"I had observed positions being given to male employees selected by management before any applications were even sought, I believed there was no point in going through the motion of applying for a promotion," she said in court depositions.
Ms Dukes, aged 60, says she was ridiculed by her managers, in a way her male colleagues were not. She was also accused of taking long breaks - a claim Walmart still stands by.
She filed her discrimination case in 2000 and has become a figurehead for the six plaintiffs, whose suit is sometimes referred to as Betty v Goliath.
Chris's lawyer, Elizabeth Lawrence, said it soon became clear that many women at Walmart felt they were being treated badly.
"After we realised that this was something that was not just at one store and that it wasn't just one problem manager, we set up a website and a toll-free number for people to contact us, and word just got out," says Ms Lawrence.
The case could now become the largest sex discrimination lawsuit in American history.
If the Supreme Court allows a class action - in which a small number of plaintiffs sue on behalf of a larger group - the result could be a payout to each of the 1.6 million women employed at Walmart retail stores in the US since 1998.
The women are making their claim under the 1964 Civil Rights Act, claiming "the policies and practices underlying this discriminatory treatment are consistent throughout Walmart".
They are seeking lost pay and punitive damages.
Joseph Sellers, the lawyer who will be arguing on behalf of them at the Supreme Court, alleges that discrimination was so rife at Walmart, that a collective lawsuit is the only way many women will get justice.
"Most of them don't have the resources to bring litigation against what's the largest private employer in this country," he says.
The claims of discrimination are vehemently denied by Walmart, which points out that it has won awards for its women-friendly working practices.
"Walmart has had - for many years - strong policies against discrimination and these policies are there to ensure women are promoted and paid well," says company spokesman Greg Rossiter.
Mark Perry, one of the lawyers representing the supermarket, says that while individuals have a right to sue the company, each store takes its own decisions over pay and promotion. So there are no grounds, he argues, for a class action applying to every store, and every female employee, in the country.
"Individual intent can vary dramatically from person to person, store to store, region to region - and those questions are being obscured by the class action," says Mr Perry.
He also says a class action means that many women who have no grievances against Walmart are being pushed into a lawsuit they might not even agree with.
If someone does not want to be included in the class action they can opt out, but it is likely many women will stay in, because of the the prospect of sharing in any damages.
In 2004 a federal district court judge ruled that a class action could go ahead and the Ninth Circuit Court of Appeal backed that decision last year. A final decision is now awaited from America's highest court, with oral arguments scheduled for 29 March.
The key task for the plaintiff's lawyers is to convince the court there has been a pattern of discrimination across the company, says Joshua Rose, a lawyer who specialises in class action lawsuits.
"When you have that many claims being decided on it's a whole different kind of proof than trying to prove an individual case is discrimination," he says.
Mr Rose says a class action has a huge impact - not only because it can force a company to pay out large amounts of money, but also because it can be used to change the employee's means of business, and force new working practices.
In Walmart's case, if it loses, the payout could run into billions of dollars. The damage to its reputation would be incalculable.
Related Internet Links
The BBC is not responsible for the content of external sites.