US report finds Gulf embassy staff 'risk exploitation'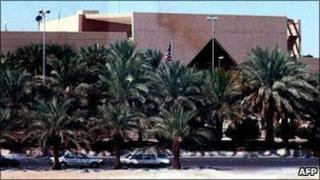 US investigators say they have found "indicators" of exploitation and coercion of low-level staff at US missions in four Gulf countries.
State department investigators reported that contractors illegally confiscated workers' passports and housed staff in overcrowded and dirty conditions.
Investigators said some workers had paid recruitment fees worth up to a year's salary, risking "debt bondage".
But they found no evidence US human trafficking laws had been violated.
A report released on Monday by the Office of Inspector General for the US Department of State said that all 75 workers interviewed by investigators in Kuwait, Oman, Saudi Arabia and the United Arab Emirates said they had come to the host country voluntarily.
The workers were employed by state department-funded contractors at the US embassies in those countries and at two consulates general in Saudi Arabia and the UAE.
But most of the gardeners, cooks, cleaning staff and guards from Bangladesh, Ethiopia, India, Nepal, the Philippines and Sri Lanka said they had been required to pay advance fees during the recruiting process.
'Underpaid'
Nearly half the workers said they paid fees totalling more than six months' salary, and more than a quarter said they had paid more than a year's salary.
The report, carried out as part of a periodic review of state department operations, found that every contractor in the four countries confiscated workers' passports, despite this being illegal.
The agencies offered investigators several reasons for the practice, including a lack of secure storage space in workers' living areas.
Also, some workers told investigators they had not been paid wages they were owed, and some said they were underpaid relative to the prevailing local wage. Some also said food and maintenance allowances did not cover costs.
Saudi contractors reportedly deducted half of work permit costs from workers' wages, in violation of Saudi employment law, the report said.
In addition, its authors said: "Two-thirds of the housing [investigators] observed fell within the space parameters of a US minimum security prison cell."
The report added: "The practices of some contractors negatively affect foreign workers and reflect poorly on the department."