'Green River killer' Gary Ridgway in 49th murder charge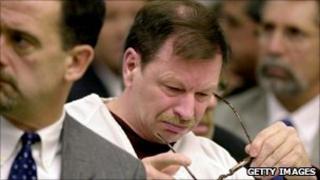 One of the most prolific serial killers in US history has been charged with a 49th murder.
Gary Ridgway, the so-called Green River killer, is already serving 48 life terms in a prison in Washington state.
Prosecutors said Ridgway had confessed to the 1982 killing of 20-year-old Rebecca Marrero when he initially pleaded guilty in 2003 to 48 killings.
But prosecutors lacked other evidence needed to charge him in her death then. Her remains were found in December.
Ridgway is expected to appear in court to face the new charge on 18 February.
Investigators said Ridgway, a commercial truck painter, was active for two decades, killing Seattle-area prostitutes, runaways and drug addicts and earning his moniker because he dumped his victims' bodies in the nearby Green River valley.
Plea deal
Ridgway was caught in 2001 after police used DNA technology to link him to some of the bodies.
He is held in solitary confinement at a prison in Walla Walla, Washington, and is allowed out of his cell for one hour on four days of the week.
Marrero, a mother who worked as a prostitute, was last seen leaving a motel in 1982. Police long suspected she had been murdered by the Green River killer.
Dan Satterberg, a prosecutor for King County, Washington, told reporters Ridgway had confessed to killing her in 2003, when he struck a plea deal in 48 murder charges that saw him sentenced to 48 life terms rather than the death penalty.
But Mr Satterberg said the details he had provided about the Marrero killing, including the locations where he picked her up and dumped her body, were inconsistent and authorities did not believe they could support a murder charge.
"They always thought maybe he had killed her but they didn't know for sure," Mr Satterberg said. "It's important for the family to be able to have the answers."
Marrero's family recently gave her a proper burial, Mr Satterberg said.
"Finally my sister's not out in the rain and the snow," Mary Marrero told the Seattle Post-Intelligencer in December. "She's somewhere warm now."