Obama says White House and CEOs 'must work together'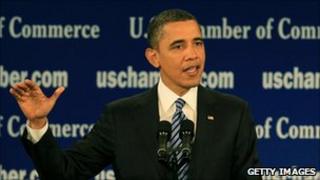 US President Barack Obama has said that despite past disagreements the White House and American business leaders "can and must work together".
"We need to make America the best place on earth to do business. And this is a job for all of us," Mr Obama said at the US Chamber of Commerce.
His speech comes amid efforts to smooth relations with corporate leaders.
The president also said he hoped to lower the corporate tax rate and eliminate tax loops to pay for the cut.
'Investing in America'
The president sought to persuade major businesses to spend money, expand hiring and promote economic growth by seeking workers within US borders.
"As we work with you to make America a better place to do business, ask yourselves what you can do for America. Ask yourselves what you can do to hire American workers, to support the American economy and to invest in this nation," Mr Obama said to the Republican-leaning Chamber.
The president added that the US should strive to "out-innovate, out-educate and out-build our competitors".
The BBC's Paul Adams said that amid a sometimes faltering economy, the president wanted to forge a closer partnership with the business community and, to a certain extent, "bury the hatchet".
Mr Obama said the federal government would support the country's economic foundation by spending public money on transportation, education and communication systems.
As he did in his State of the Union speech last month, Mr Obama said he would improve the tax code and back regulations that support business growth.
The president referenced former President Franklin Delano Roosevelt's outreach to business leaders in his speech, saying strengthening the economy was "a job for all of us".
Mr Obama's speech comes a week after US shares closed at their highest level in more than two years, adding to the confidence in the economic recovery.