Census shows New Orleans shrank by a third post-Katrina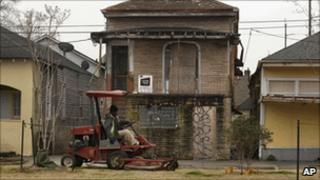 New Orleans lost nearly a third of its population after the 2005 impact of Hurricane Katrina, census data shows.
Its population dropped to 343,829, after residents evacuated the city.
The US has begun releasing state-level population data from the 2010 Census. States will use the data to redraw Congressional district maps.
The data is expected to show minorities constituted most of the growth in the US population over the past decade.
Eight states, mostly in the southern and western US, will add congressional seats during the next election, while many states in the north-east and mid-west will suffer loses in 2012.
Analysts predict newly released data show Hispanics make up most of the growth in states set to gain additional seats in Congress.
Evacuated
Overall, the US population grew 9.7% to 308.7 million since 2000.
New Orleans' population was 484,674 in 2000. But in 2005, the low-lying city was hit by Hurricane Katrina and flooded when the storm breached levees.
In the aftermath of the disaster, large numbers of residents were evacuated to neighbouring Texas and beyond.
In addition to figures for Louisiana, the state in which New Orleans is located, the Census Bureau this week released state-level data for Mississippi, New Jersey and Virginia.
The growth in the Hispanic population, which far outstripped gains in other ethnic and racial groups, points to a growing political voice for Hispanic voters, analysts say.
"There are going to be a lot of additional Hispanic officials elected when redistricting is done," E Mark Braden, a former chief counsel to the Republican National Committee who now advises state governments on redistricting, told the Associated Press.
In the 2008 presidential election, Hispanics overwhelmingly voted for Democrat Barack Obama.
In Virginia, expected to be a hard-fought swing state in the 2012 election, the Hispanic population nearly doubled to 7.9%. In New Jersey, the number of non-Hispanic whites shrank 6.2%.
Next week, the Census Bureau is to release data from Arkansas, Indiana, Iowa and Maryland. Data will be released for all states by 1 April.