Garrido 'fit to stand trial' over Jaycee Dugard kidnap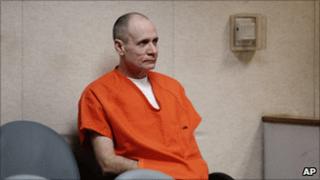 A California judge has ruled that a man accused of kidnapping Jaycee Dugard, a young woman held captive for 18 years, is mentally competent to stand trial.
Phillip Garrido is now due back in court later this month to enter a plea. The judge ruled he was fit for trial after reviewing psychiatric reports.
Mr Garrido and his wife, Nancy, are accused of abducting Ms Dugard in 1991, aged 11, from a street near her home.
Mr Garrido allegedly fathered her two daughters while keeping her captive.
Ms Dugard was discovered and the couple arrested in California in August 2009.
The 18 counts against the couple include kidnapping for sexual purposes, rape, lewd acts on a child, false imprisonment and production of child pornography with the victim, according to the indictment document.
In addition, Mr Garrido is charged under special allegations stemming from a 1977 rape conviction, including being a habitual sex offender.
Mrs Garrido entered a "not guilty" plea last year. Mr Garrido was not formally charged at that time, pending the evaluation of his mental status.