Man arrested over $1.5m Las Vegas casino chips robbery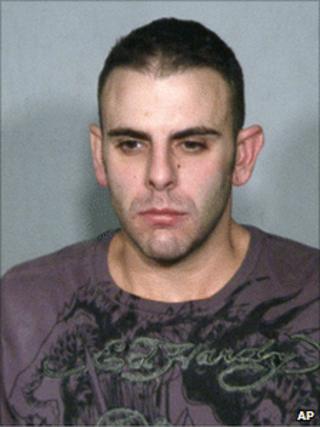 Las Vegas police have arrested a man in connection with the brazen robbery of $1.5m (£950,000) in casino chips from a Bellagio resort gaming table.
Police say Anthony Carleo, 29, was the robber who donned a helmet, brandished a gun and made off on a motorcycle.
Police gave few details on the arrest, besides saying it was in Las Vegas.
After the 14 December heist the casino announced it would cease honouring $25,000 chips in April, hoping to lure the thief into revealing himself.
Caught on camera
Because of the high value of the chips stolen - reportedly between $100 and $25,000 - figures in the powerful Las Vegas casino industry speculated the thief would have trouble profiting from the robbery without revealing himself.
The robbery was captured on CCTV. Security guards made no effort to stop him escaping from the casino with the loot for fear patrons would be injured in a shoot-out.
The Las Vegas Review-Journal reported that Mr Carleo is the son of a municipal court judge.