Royal wedding fever in New York City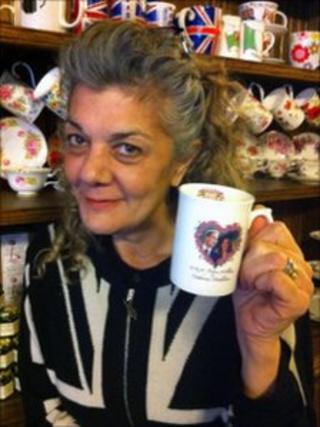 In a West Village cafe, Michael Lopez and Anthony Gavasci are weighing up whether to wear top hats when they are in London to celebrate Prince William and Kate Middleton's marriage in April.
A few blocks away, Nicky Perry is planning a royal wedding street party in Manhattan, complete with bunting and Morris Men.
On the far West Side of the city, Peter Hollingsworth is taking orders for Kate and William commemorative bone china.
You don't have to look very far to find advanced cases of royal wedding fever in this town.
Mr Lopez and Mr Gavasci, his partner, collect royal memorabilia - china from the Queen's coronation, Charles and Di statues, royal pill boxes.
"For this wedding, we'll buy everything from the Wedgwood on down," Mr Lopez says.
The couple booked plane tickets to London the day after Prince William and Miss Middleton announced their engagement. They plan to travel with six friends - so far - and hope to find a vantage point from which to watch the proceedings.
"The group just keeps on getting bigger and bigger," says Mr Lopez, a hairdresser. "We hope we can get as close to the wedding as possible, to feel the great energy, the pomp and circumstance. Who does it better than the Brits? I'm looking forward to watching it, to critiquing it."
Mr Gavasci, a fashion buyer, sees Prince William and Miss Middleton's wedding as a turning point for the Royal Family, something he wants to witness in person. "Young blood is coming to the forefront," he says. "This wedding is going to bring the royals into the millennium."
Mr Lopez is looking forward to the moment he sees Miss Middleton walk down the aisle at Westminster Abbey.
"The last time when the world watched it was a very sad time, Diana's funeral, so it opens a new door, a new chapter, and it leaves the past behind," he says. "It's a fairytale story, and it's a Cinderella moment. The mother was a flight attendant, Kate's a smart girl who waited and got what she wanted."
Nicky Perry, the exuberant owner of the British-themed cafe Tea and Sympathy, is already envisaging a "right old knees up" on royal wedding day, with a party in a downtown Manhattan park.
She has started selling William and Kate mugs to enthusiastic Americans.
"People are fascinated by this wedding, " says Ms Perry, who is British. "They loved Diana, then the fascination died down a bit, and now there's this beautiful princess and people can't wait to see what she's wearing, what her shoes are like."
Mara Saksin, a graduate student and one of Nicky's American customers, said she felt Prince William's loss the night Diana died.
"William is my age, and even though we live 3,500 miles apart I saw him grow up," she says. "I'm glad to see him marrying someone he loves. I just got married myself."
At the international gift fair this week at the Jacob K Javits Convention Center across town, retailers surveyed the trinkets which will be in the shops and online come the spring.
British ex-pat Peter Hollingsworth, who imports Kate and William commemorative china approved by Buckingham Palace, said he has taken taking orders from giftshops for mugs, a plaque, a trinket box and a teapot from as far away as Missouri.
"My first set of wedding china sold out within less than twenty four hours, just under 1,000 pieces," Mr Hollingswoth told the BBC.
"Americans are more interested in the royals than the Brits," he says, "probably because they don't have a royal family."