'Jihad Jane' case: Colleen LaRose admits terror plot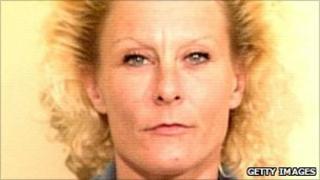 A US woman who allegedly called herself "Jihad Jane" has pleaded guilty in Pennsylvania to involvement in an overseas terrorism plot.
Colleen LaRose conspired with Islamists and pledged to murder in the name of a Muslim holy war, prosecutors say.
The 46-year-old was indicted as part of an investigation into an alleged plot to kill a Swedish cartoonist who drew pictures of the Prophet Muhammad.
She was arrested in October 2009 in Philadelphia.
"Today's guilty plea, by a woman from suburban America who plotted with others to commit murder overseas and to provide material support to terrorists, underscores the evolving nature of the threat we face," said David Kris, assistant attorney general for national security.
'Support to terrorists'
LaRose has a co-defendant, Jamie Paulin-Ramirez of Colorado, who has pleaded not guilty since she was arrested in Ireland with other terror suspects.
The indictment was part of an international investigation into an alleged plot to kill Swedish artist Lars Vilks, who drew the Prophet Muhammad with the body of a dog.
According to the charge-sheet, LaRose plotted to "provide material support to terrorists", seeking both male and female recruits and raising money.
LaRose and co-conspirators used the internet to establish relationships with one another and to communicate regarding their plans, according to court documents.
These included martyring themselves, soliciting funds for terrorists, soliciting passports and avoiding travel restrictions in order to wage violent jihad, the justice department said.
LaRose was also accused of stealing another individual's US passport and transferring it in an effort to facilitate an act of international terrorism.