NYC investigators conduct Arizona gun show 'sting'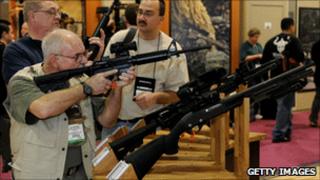 A New York City investigator bought pistols at an Arizona gun fair despite declaring he was "probably" barred by law from gun ownership, a report says.
New York Mayor Michael Bloomberg's office, which conducted the sting, said the investigation exposed "a dangerous gap in our existing federal gun laws".
The gun show operator denounced the operation as "unlawful" entrapment.
The fair was held two weeks after six were killed in a shooting at an Arizona congresswoman's constituent meeting.
Representative Gabrielle Giffords, a Democrat, is recovering from a gunshot wound to the head. Among the six killed were a nine-year-old girl and a federal judge.
Jared Loughner, 22, is being held pending trial for the attack.
According to a report released on Monday, a team of private investigators hired by New York City visited the Crossroads of the West Gun Show in Phoenix, Arizona on 23 January.
'No questions asked'
Without undergoing background checks to ensure they were not prohibited from gun ownership, the investigators purchased from private sellers 9mm semi-automatic pistols, including a Glock similar to the weapon Mr Loughner is accused of using in the deadly 8 January attack.
"We have demonstrated how easy it is for anyone to buy a semiautomatic handgun and a high capacity magazine, no questions asked," Mr Bloomberg said.
Federal law prohibits convicted criminals, mentally ill individuals and drug abusers from owning guns.
Licensed firearm dealers are required to conduct an FBI instant background check on prospective buyers.
But a provision of the background check law - which gun control advocates term the "gun show loophole" - allows private citizens to sell weapons from their personal collections without a background check.
"Gun shows provide a central marketplace for prohibited purchasers to connect with private sellers who make anonymous gun sales," Mr Bloomberg's report stated.
And it is illegal for private parties to sell guns to individuals they "know" or "have reason to believe" are barred from gun ownership.
According to the report, an undercover investigator purchased a pistol despite telling the seller "I probably couldn't pass" a background check.
The operators of the Crossroads of the West Gun Shows issued a statement on Monday saying all exhibitors at its shows were required to follow state and federal gun laws.
"Mayor Bloomberg and his 'task force' have no legal authority in the state of Arizona, or in any other place in America except New York City.
"These forays into America's heartland committing blatant acts to entrap otherwise innocent gun owners is an unlawful scheme that is created by Bloomberg's task force," the statement said.
An almost identical 2009 sting operation targeted seven gun shows in Tennessee, Ohio and Nevada. As a result, organizers of 35 gun shows around the country agreed to end all no-background-check sales, Mr Bloomberg said.
Some gun rights advocates take issue with the term "gun show loophole", arguing that there is a tradition of unrestricted commerce between private individuals, and that any provision for such sales apply regardless of location.
The regulation of private firearm sales at gun shows varies from state to state in the US.