Iran summons US hiker Sarah Shourd for spying trial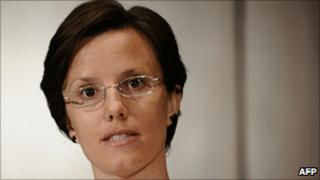 An American woman who spent 14 months in an Iranian jail has been summoned to Tehran to stand trial for spying, an Iranian government official has said.
Sarah Shourd and two American men were arrested as they hiked near the Iraq border in July 2009.
They maintain they were tourists but Tehran has charged them with spying.
Ms Shourd was released on bail in September and returned to the US. Her fiance Shane Bauer and their friend Josh Fattal remain in prison in Tehran.
Ms Shourd has said the trio were hiking in Iraqi Kurdistan and did not intentionally stray over the border with Iran.
In Tehran on Monday, judiciary spokesman Gholam Hossein Mohseni Ejehi said a court had summoned Ms Shourd to return and stand trial on 6 February.
Iran has said she will forfeit $500,000 (£314,386) bail if she does not return to stand trial. It remains unclear who provided the money.
It was unclear on Monday whether Ms Shourd would agree to return.
The US has said there is no basis for a trial and has demanded that Mr Bauer and Mr Fattal be released on humanitarian grounds.
The trial had been set to begin in November but was postponed because Ms Shourd had not been summoned back.
Meanwhile, on Monday a group of eight international figures, including Noam Chomsky, actor Sean Penn and South African anti-apartheid leader Archbishop Desmond Tutu, called for Iran to release the two men.
"The time for Shane and Josh's freedom is overdue and we implore you to allow them to go free and return to their families," the group said in a statement.