Rahm Emanuel: Court overturns ban on Chicago mayor bid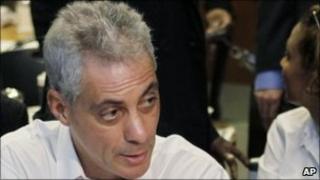 The Illinois supreme court has ruled that President Barack Obama's former chief of staff Rahm Emanuel can run to be mayor of Chicago, overturning a lower court's decision.
Mr Emanuel had been thrown off the 22 February ballot after an appeals court ruled he had not met a residency rule.
But the state's highest court ruled unanimously in his favour.
Mr Emanuel had lived for nearly two years in Washington working for Mr Obama until he moved back to Chicago.
The former chief of staff argued that since he had always intended to return to the city following his service to the president, he had maintained residency.
'Not clearly erroneous'
Mr Emanuel was born in Chicago, and bought a house in Chicago in 1998, and lived there until 2009 while representing the area in the US Congress.
In January 2009 he moved to Washington DC to work for Mr Obama, leaving his family behind in Chicago.
In June 2009, his wife and children joined him in Washington, bringing with them most of their clothing and belongings but leaving behind larger household items - a piano, bed, televisions and family heirlooms. The Emanuels then rented out the Chicago house.
"The board determined that, in this situation, the rental did not show abandonment of the residence," the court wrote. "This conclusion was well supported by the evidence and was not clearly erroneous."
The three other main candidates to replace Chicago Mayor Richard M Daley are former Senator Carol Moseley Braun, former schools President Gery Chico and City Clerk Miguel del Valle. Mr Daley is retiring after more than two decades in office.