How will the US military treat gay married members?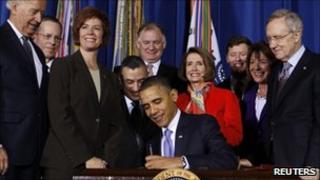 The repeal of the US military's "don't ask, don't tell" policy was a historic victory for gay Americans, who will now be able to serve openly in the military. But rather than being the end of discrimination, it may be just the beginning.
President Barack Obama lauded the achievement in his State of the Union address. "Starting this year, no American will be forbidden from serving the country they love because of who they love," he said.
Defence Secretary Robert Gates announced on Thursday that the Pentagon would be ready to implement the repeal within 60 days of receiving the president's certification that the inclusion of gay members would not hinder the battle readiness of the US military.
Since Congress passed the repeal in December, a Pentagon working group has been analysing the changes that must be made, including recruitment policies and training the force.
Rolling out the new procedures for recruitment and training is expected to take until mid-2011.
But one area remains tricky, and potentially volatile: how will the spouses of legally married gay service members be treated?
The short answer is: not at all. For now, the military won't be officially recognising gay marriage as equal to straight marriage.
Hands are tied
Same sex marriage is legal in five US states and in the District of Columbia. Three other states recognise those marriages.
Davina Kotulski, who wrote Love Warriors: The Rise of the Marriage Equality Movement, told the BBC that, at her last count, there were more than 270 benefit provisions related to marriage for military personnel and more than 90 such provisions for veterans.
These provisions cover a wide array of spousal benefits: health care, pensions, compensation for service-related death, nursing home care, housing loans, student loans, right to burial in military cemeteries, phone calls home during deployments - the list goes on.
As it stands, gay spouses won't be eligible for such benefits, and the military does not intend to alter its policies to include them.
"Right now, no changes are expected in policy with respect to housing, that kind of benefit," said Clifford Stanley, Under Secretary of Defence for Personnel and Readiness.
In some respects, their hands are tied by the Defense of Marriage Act (DOMA), a 1996 law which defines marriage for the purposes of the federal government as a union between one man and one woman.
That means any benefits enshrined in national laws that are given to spouses of federal employees can only be granted to those in traditional straight marriages.
For those in the military, that includes spousal health care and housing allowances such as spousal relocation costs.
Married individuals of a certain rank also get larger allowances for off-base housing and more space in on-base accommodation than single service members.
Gay spouses would be prohibited, under federal law, from being included in those benefits.
Individual service members will be allowed to designate a same sex partner as the beneficiary of their life insurance or as their care giver, but they won't be able, for example, to include their spouse on their health care plan.
And if they get deployed to a base overseas, the military won't pay for a same-sex spouse to go with them, and it is unlikely the spouse would be able to live in on-base housing with his or her partner.
'Not iron-clad'
Ty Cobb, the legislative counsel for gay advocacy group the Human Rights Campaign, says that there may be areas where the military could be inclusive and still comply with DOMA.
If the spousal benefits are part of military policy or regulations - for example, the privilege of being able to shop at the commissary on a military base - the military leadership could revise its terminology so that gay spouses are not excluded.
Mr Cobb says there is precedent. The US Department of State has changed the language of many of its policies so as not to exclude gay partners.
And military leaders have not ruled out making changes in the future.
"We are saying, right now, no policy changes dealing with benefits. But there could be something we don't know about and that's why that aperture remains slightly open," Mr Stanley said.
"We are not saying everything is iron-clad."
Tipping point?
The possibility of the military relaxing its stance toward gay couples is giving some gay rights advocates a glimmer of hope that this might be a tipping point in their battle for marriage equality, and ultimately, repealing DOMA.
"The repeal of 'don't ask, don't tell' shows that America doesn't believe in discrimination and I believe that Americans are becoming more aware that denying the ability to marry is a real form of discrimination," Mr Cobb told the BBC.
The Servicemembers Legal Defense Network (SLDN), an organisation which lobbies to end discrimination against gays in the military, plans to keep up pressure over the issue of spousal benefits.
"Equality of benefits will be one of our goals during the implementation period. I suspect we will be working on a dual track, working with the Pentagon but litigating if necessary - and it may very well be," SLDN executive director Aubrey Sarvis told the BBC.
"I think ensuring that we have full benefit equality will be one of the best building blocks possible for getting rid of the Defence of Marriage Act," he said.
After working to roll back "don't ask, don't tell" for 17 years, the gay community, it seems, is ready to keep on fighting.