Actor Charlie Sheen 'taken to Los Angeles hospital'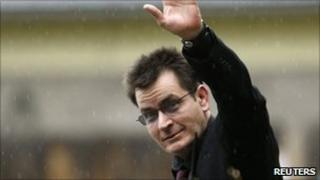 US actor Charlie Sheen has been taken to hospital in Los Angeles with severe abdominal pains, his publicist says.
Publicist Stan Rosenfield gave no other details of the 45-year-old's condition.
But the celebrity news website TMZ reported Mr Sheen was taken by ambulance from his home following an early morning emergency call.
Mr Sheen currently stars in the popular TV comedy Two and a Half Men. He also starred in the films Wall Street, Major League and Platoon.
His father, Hollywood star Martin Sheen, mother, and ex-wife were with him at Cedars-Sinai Hospital in Los Angeles, TMZ reported.
Charlie Sheen filed for divorce from his third wife, Brooke Mueller, in November, citing irreconcilable differences.
In late October 2009 the actor was accused of causing damage to a hotel room in New York. After hotel security reported Mr Sheen was disorderly, the actor voluntarily went with authorities for a psychiatric evaluation.
However, Mr Sheen's publicist said the actor had gone to hospital because he had "an adverse allergic reaction to some medication".