What do voters want to hear from Barack Obama?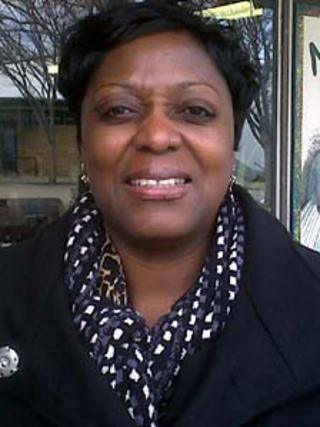 As US President Barack Obama prepared to give his State of the Union address, BBC World News America's Katty Kay spoke to voters in Maryland about the economy, the president's leadership, and what they wanted to hear from him on Tuesday night.
In the aftermath of November's mid-term election, Mr Obama admitted that voters had given him and his Democratic party a "shellacking".
Yet if those historic election results were the ultimate wake-up call for the White House, then the uncomfortable truth about the need for a shift in style and strategy had already been delivered six weeks earlier - to his face, and not by a foe, but by a friend.
Velma Hart, a mother of two and a successful professional, told Mr Obama at a September town hall-style meeting that she was "exhausted of defending" him and "deeply disappointed with where we are".
Her description of economic insecurity in the recession also struck a chord.
"I voted for a man who was going to change things in a meaningful way for the middle class," she said. "I'm one of those people and I'm waiting."
Since then Mr Obama's fortunes have rebounded - his approval ratings are back above 50% - while Ms Hart's luck has run out.
In the days before the November Thanksgiving holiday she lost her job as chief financial officer for a veterans' charity and joined the more than 15 million Americans out of work.
'Jobs are priority'
Yet Ms Hart is anything but bitter. When we met at a cafe in a Maryland suburb she was optimistic about her own job prospects and those of the president.
A proud progressive, Ms Hart told me she was never disillusioned with Mr Obama's policies, just with his failure to tell voters clearly what he was doing and how it would improve their lives.
Ms Hart believes the president has been much clearer and more dynamic since the mid-terms, citing the tax-cut compromise hammered out in the lame-duck session in December.
The president made it clear he opposed cuts for the richest Americans, she said, but also said his priority was helping the struggling middle class.
"He said to Republicans: 'This is my plan. If you have a better one, bring it. If not, then back mine,'" she said. "That's leadership."
So what does she want to hear from the president in his address to Congress on Tuesday night?
"Jobs are the priority now," she said. "I want to hear specifically what he's going to do to create jobs."
'Unconvinced'
Mr Obama would like to talk of little else. He knows that the state of the economy - and specifically whether he can bring unemployment down from its current level close to 10% - will ultimately decide the fate of his presidency. The speech may be light on specifics and heavy on vision.
Having followed in Franklin Roosevelt's footsteps with stimulus spending over his first two years, the president is expected to invoke the spirit of John F Kennedy this time.
He wants to revive America's flagging confidence and restore belief that the US can compete in a globalised world.
"We're going to have to out-innovate, we're going to have to out-build, we're going to have to out-compete, we're going to have to out-educate other countries," he said in a video preview of the address. "That's our challenge."
However, entrepreneur Bill Murphy is not convinced by the president's business-friendly rhetoric, nor the administration's newly named council on jobs and competitiveness, headed by General Electric chief executive Jeff Immelt.
"How can government innovate? It has to come from business," he said, describing companies like his as the lifeblood of the US economy.
'Spending mentality'
I met Mr Murphy, chief executive of RedZone Technologies, an IT consulting firm with a staff of 20, at his office tucked behind a small suburban shopping plaza on the outskirts of Annapolis, Maryland's state capital.
I asked him what he wanted to hear from the president. Lower taxes? Less regulation?
"I don't believe I need anything from the president of the United States," he replied. "Like any entrepreneur, I have to be self-sufficient and to constantly innovate."
Describing Mr Obama as a "socialist", he said the president had been more interested in healthcare reform and social programmes than in boosting the economy.
He sees no reason that might be going to change.
"That's his mentality," he said. "He's like a CEO of a company who comes in and says 'It's time to spend, spend, spend.' He's used to taking dollars and allocating them. He's never had to worry about finding dollars, about raising revenues through growth."
Despite their differences, both Ms Hart and Mr Murphy agree the president needs to lead the country to a new style of politics.
"His only job is to pull people together and make something happen," Mr Murphy said.
Ms Hart said: "There has to be compromise on both sides or it will fail. But the president has an opportunity with this speech to craft a different mode of communication and way of doing things."
And in the wake of the shooting in Tucson, Mr Obama may have an opportunity. The Republican-controlled House of Representatives wants to repeal his healthcare reform programme and cut government spending, but for one night partisan loyalties (or seating arrangements at least) are being put aside.
If the president can harness that spirit of co-operation over conflict, he may yet be able to make this divided government work for him.
Katty Kay is Washington correspondent for BBC World News America, weekdays on BBC America, BBC News Channel and BBC World News