'Arms dealer' Viktor Bout's lawyer challenges US trial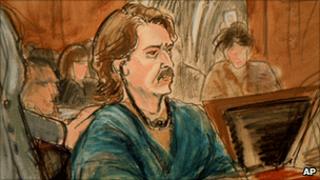 A lawyer for suspected Russian arms dealer Viktor Bout said she will challenge the US government's right to prosecute him.
Sabrina Shroff told a federal court in New York City that since none of his alleged crimes occurred in the US, the US cannot try him.
The former Russian air force officer is accused of trying to sell arms to Colombian rebels and supplying weapons used in Africa and the Middle East.
He has pleaded not guilty.
"It's a manufactured jurisdiction," Ms Shroff told US District Judge Shira Scheindlin.
She said she will also argue the arrest of Mr Bout in 2008 in Bangkok was illegal under Thai law.
'Merchant of Death'
Prosecutors maintain that in 2007 and 2008, Mr Bout agreed to sell millions of dollars worth of heavy weaponry to informants for the US Drug Enforcement Agency (DEA), believing them to be agents of the Farc, a Colombian rebel group the US calls a "narco-terrorist organisation".
Mr Bout is charged with conspiracy to kill US nationals and government officers, conspiracy to use an anti-aircraft missile and conspiracy to provide material support or resources to a designated foreign terrorist organisation.
If convicted, he faces 25 years in prison.
Mr Bout first came to prominence a decade ago when he was described in a United Nations report as "a well-known supplier of embargoed non-state actors" - the UN's way of describing an arms supplier to rebels.
Dubbed the Merchant of Death by a British politician, he is alleged to have supplied arms to Afghanistan, Angola, Liberia and the Democratic Republic of Congo.
His arrest has provoked protests from the Russian government, which said the prosecution could threaten co-operation in Afghanistan.