Obama pledges to put 'economy into overdrive' by 2012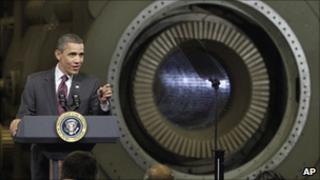 President Barack Obama has vowed to put the economy "into overdrive" by 2012, as he announced the head of a new economic advisory panel.
At a General Electric (GE) plant in New York, Mr Obama said he had named the company's head, Jeffery Immelt, to lead a council on jobs and competitiveness.
Mr Obama also called on China to open to "two-way trade" with US companies.
His remarks came amid what commentators describe as a White House effort to court the US business community.
Grim voters
"Our job is to do everything we can to ensure that businesses can take root, and folks can find good jobs," Mr Obama told General Electric workers.
Despite pushing through a $787bn (£492bn) economic stimulus package and other measures, Mr Obama has been criticised for his handling of the US economy, which has seen sluggish job growth in the two years since he took office during the worst economic downturn in decades.
Mr Obama's success or failure in his 2012 re-election bid will depend in part on the performance of the economy and on whether voters see steady job creation, analysts say.
An Associated Press-GfK poll released on Friday suggested just 35% of Americans believe the economy has improved during Mr Obama's presidency.
In one of several moves aimed at winning back corporate support, Mr Obama this week aimed at reducing the regulatory burden on US businesses.
Mr Obama on Friday emphasised the need to build the US export economy, particularly in terms of trade with China, with whom the US has a roughly $262.3 billion (£164 billion) trade deficit.
Shifting the US-China trade relationship toward a more equitable balance was a major issue in White House talks this week between Mr Obama and Chinese President Hu Jintao.
"We're going to build stuff, and invent stuff," Mr Obama said on Friday. Regarding China, he said: "That's where the customers are. It's that simple."
Chinese President Hu Jintao was spending the final day of his US state visit in Chicago, where business executives were set to sign 60 deals to highlight relations between the countries.