The most stressful dinner party in the world?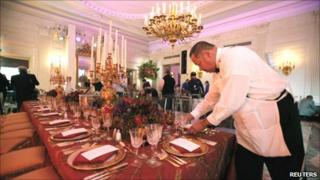 One of the key moments of a sensitive state visit to the US by Chinese President Hu Jintao was a state dinner in the White House - the kind of occasion where the food has to do a lot more than simply taste great.
Serving up a good meal for anyone can be daunting - what to cook, how to cook, will the guests like it?
But when you've got a head of state over for dinner, it's the entire world, not just you, watching for reaction to the first mouthful.
With foreign guests, there is a dietary minefield to cross. Are there some foods they won't touch with a barge pole? Can you serve a Chinese statesman blue cheese?
Getting it right is important. A good meal can set the tone for an entire visit.
"If one thing doesn't go right, it's not like a restaurant where you can give someone 10% off the bill and a free glass of champagne," says Walter Scheib, White House executive chef from 1994 to 2005.
The pressure is intense, he adds, when you are representing the country and the First Family - and when any errors might be played out on the national news.
Tasting trials
To avoid such embarrassments, the planning process is intense.
The office of protocol at the State Department takes the first step, sending a list to the First Lady of the guest's culinary dislikes and any cultural sensitivities to be aware of. All this to ensure "nothing of offence" finds its way on to the menu.
She then selects the menu for the event, and decides how it will be presented, with the help of the White House social secretary and the executive chef.
The plan may be revised, tried and tested on a number of occasions before it is finally approved.
Mr Scheib recalls how Laura Bush would invite groups of friends over for tastings, "like an iron chef competition", while Hillary Clinton would examine a dish closely once, or even twice, before approving it.
At this week's state dinner for President Hu, cooked by executive chef Cristeta Comerford - Mr Scheib's successor and the first woman in the job - the visiting guests asked for something "quintessentially American".
They got it, right down to old-fashioned apple pie.
However, the BBC's Fuchsia Dunlop, the author of three books on Chinese cuisine, believes it would have been a challenging meal for many of the Chinese delegation.
"Many Chinese people, especially those of President Hu's generation, would be less than delighted with raw salad and goats cheese and with the prospect of eating a whole slab of beef," she says.
In the past only "barbarians" ate raw food and dairy products, she says, while rare, pink oozing meat is an "atrocity" in terms of Chinese gastronomy.
Better manners
If historians have overlooked the impact of chefs on international relations, Gary Robinson - formerly personal chef to Prince Charles and now the treasured head chef at the British Embassy in Washington DC - argues that they play a key role.
"It's a diplomatic role in every sense," he says.
A dinner is "one of the times where leaders can kick back and relax a little but still have powerful discussions. If food can grease the wheels of that, that process is helped along."
Walter Scheib says he witnessed this on many occasions a the White House. He recalls an occasion when Bill Clinton hosted a lunch between Yasser Arafat and Benjamin Netanyahu in 1996.
"It was a very tense time but to get them all together across the table eating lunch really humanised the situation.
"It's really difficult to be angry with someone when you're breaking bread with them on a one-to-one basis."
Wolfgang Puck, an American chef and restaurateur who has cooked for the G7, the Oscars and every US president since Gerald Ford, has also seen this principle in action.
"Generally we have better manners at a table than other places," he says.
"Having a great discussion over a great dinner will help diplomacy and help people to get along."
Dishes that 'mean something'
There are two main approaches to diplomatic cookery - to show off the host's national cuisine, or to pay tribute to the guest's.
When Puck catered for the 1983 Williamsburg economic summit he served food which represented different cuisines from the United States, including French-influenced dishes from New Orleans, a New England style dinner, and New York deli food for breakfast.
For Gary Robinson at the British Embassy it is all about highlighting the best of British for foreign visitors.
In contrast, Roland Mesnier, who spent 26 years as the White House pastry chef, responsible for concocting desserts, says it's important to create dishes which "mean something" to the visiting leader.
He recalls one occasion, at a dinner for British Prime Minister Tony Blair, when he created a chocolate statue of Big Ben on every plate, "to make sure everyone knew this dinner was for the British," he says.
For a previous White House dinner for a Chinese leader Mesnier made Chinese junk boats out of sugar filled with pomegranate sorbet.
"If you have a special dessert that the invited head of state can recognise and is touched by, then the talk will be easier between the two leaders," he says.
Pub lunch?
Both the two previous state dinners hosted by the Obamas featured dishes that paid tribute to the guest's culinary culture.
The dinner for India in 2009 included a potato and eggplant salad, a red lentil soup, tomato chutney, chick peas and okra and a green prawn curry. The emphasis was on vegetarian dishes, as Indian Prime Minister Manmohan Singh does not eat meat.
Similar gestures were made to the Mexican President Felipe Calderon who was served a menu of jicama with oranges, grapefruit, and pineapple, wagyu beef in Oaxacan black mole, black bean tamalon and grilled green beans - followed by a chocolate-cajeta tart.
But an elaborate formal banquet is not the only way to a politician's heart.
When George Bush visited the UK in 2003, he was treated by his host, Tony Blair, to a pub lunch of fish, chips and mushy peas.
And last year Barack Obama took visiting Russian President Dmitry Medvedev to a hamburger joint - Ray's Hell Burger - to talk shop.
A cheddar cheeseburger, fries and coke was far from gourmet, but since it was Mr Obama's favourite diner, it added a uniquely personal touch.