Chinese President Hu Jintao talks business in Chicago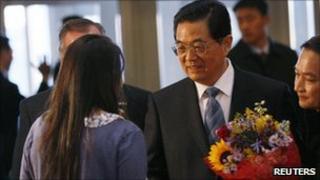 Chinese President Hu Jintao is spending the final day on his US trip in Chicago, where business executives are set to sign 60 deals to highlight relations between the countries.
US businessmen and Chinese executives are expected to sign agreements at a US-China economic forum.
Mr Hu visited a school in the region while capping off his four-day trip.
The foreign leader visited Washington earlier this week, where he was pressed on human rights and currency policy.
Mr Hu made a stop at Walter Payton College Preparatory High School in Chicago in the state of Illinois on Friday, and was expected at a business exhibition later in the day.
Hundreds of US business leaders and Chinese executives were scheduled to sign deals on Friday at the US-China Trade and Economic Co-operation Forum in Chicago, organisers said.
Some of the US companies which are expected to announce agreements include Microsoft Corp, Intel Corp, Advanced Micro Devices Inc and Cisco Systems Inc.
The heads of China-based computer manufacturer Lenovo Group Ltd, China Telecom and Weiqiao Textile Co were also expected to attend the event.
'Forefront in relations'
Mr Hu was honoured on Thursday evening at a celebratory dinner upon arriving in Chicago, President Barack Obama's hometown.
"Across the entire United States, Chicago stands at the forefront in developing relations with China," Mr Hu told Chicago Mayor Richard Daley on Thursday, the China News Service said.
Mr Daley, who has been in office for 22 years, has visited China four times since 2004 and has promoted Chicago, America's third-largest city, as a global transportation hub with a large and capable manufacturing sector.
The Chicago mayor has said the city's long-range goal was to be "the most China-friendly city in the US".
Chicago is Mr Hu's only stop in the US outside of Washington.
Mr Obama said on Wednesday that China was a target for American exports, which support nearly a half a million US jobs.
"As China-US ties develop, there are even broader prospects for local-level contacts and cooperation between our two countries," Mr Hu said.
Earlier this week in Washington, the Chinese president repeatedly touched on issues that sharply divide the US and China during a speech, saying the two nations must treat each other as equals based on "mutual respect".