Canadian accused in US court on Iraq terror charges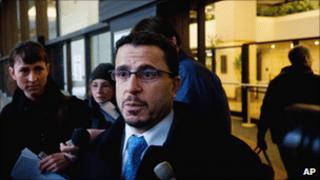 An Iraqi-born man accused in a US court on terrorism and conspiracy charges has been arrested in Edmonton, Alberta.
Faruq Khalil Muhammad Isa, 38, is accused of supporting a network of fighters that attacked a US convoy in Iraq in 2009, killing five US soldiers.
US prosecutors said Mr Isa gave the network material support and sought to become a suicide bomber himself.
Mr Isa, a Canadian citizen, appeared in court on Thursday. His lawyer pledged to fight extradition to the US.
Mr Isa, also known as Sayfildin Tahir Sharif, faces a maximum sentence of life in prison if convicted of conspiring to kill Americans abroad and providing material support to that terrorist conspiracy to kill Americans abroad.
His lawyer, Bob Aloneissi, told reporters outside the courthouse in Edmonton that Mr Isa was an Iraqi-born Kurd who moved to Canada in 1993.
In a statement released on Thursday, the Justice Department accused him of backing a network, composed largely of Tunisians, that had carried out deadly suicide bombings in Iraq.
'Suicide wish'
Among the attacks in which Mr Isa is allegedly implicated was one that killed five Americans and two Iraqi policemen in Mosul in April 2009.
The attack was the deadliest against US troops in more than a year.
"These charges underscore the global nature of the terrorist threat we face and the importance of international co-operation in addressing this threat," Assistant Attorney General David Kris said.
The charges are based in part on telephone wiretaps and search warrants authorised by Canadian courts, prosecutors said.
US officials also said Mr Isa sought to become a suicide bomber himself, telling his mother in 2009 that his greatest wish was to die a martyr, then calling the Iraqi leader of the alleged terror network and volunteering to take up arms against Americans and to conduct a suicide mission.