US woman solves own baby kidnap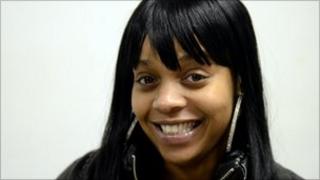 The victim of a high-profile New York baby-snatching case has been reunited with her mother after solving the mystery of her abduction herself.
Carlina White was abducted from a hospital in Harlem in August 1987, when she was just 19 days old.
Raised as Nejdra Nance in Connecticut, Ms White, 23, always had a sense she did not belong to her family, police said, and began her own inquiries.
DNA tests this week confirmed Carlina as the daughter of Joy White.
Police are now investigating the woman who raised Carlina.
'Did not belong'
Carlina was abducted from the hospital on 4 August 1987 after being taken there with a fever by her mother.
Joy White returned to the emergency room two hours after she was admitted, only to find Carlina's cot empty.
There were reports of a woman wearing nurse's clothing who had consoled the mother but who later picked up the baby and walked out of the building.
Although the abduction made headlines, investigators could not find a breakthrough and the case went cold.
Nejdra Nance was then raised in Bridgeport, Connecticut, and later moved to Atlanta in Georgia.
Carlina had long held suspicions as she did not resemble any of her family and suspected the woman who raised her used fake social security ID.
Police spokesman Paul Browne told the New York Times: "She has held the view, for a long time, that she did not belong to the family she was living with."
After starting her own investigations, Carlina finally contacted the National Center for Missing and Exploited Children and discovered a photo of a baby on its website she believed to be her.
The centre helped Ms White, who called her biological mother on 4 January.
The New York Police Department took over the investigation, arranging for DNA tests that on Tuesday proved Ms White was the daughter of Joy White and Carl Tyson, who are now separated.
Carlina had not waited for the results - holding her first reunion with her mother last Friday and returning again to New York from Georgia on Wednesday.
"I'm overwhelmed. I'm just happy. It's like a movie; it's all brand new to me," Ms White told the New York Daily News.
Her 18-year-old half-sister, Sheena, who Carlina had not known existed until recently, told the New York Times: "We spoke and got to know each other, and she looks exactly like my mom. It felt like we knew each other before we met."