Prison sentence for US HIV sex airman David Gutierrez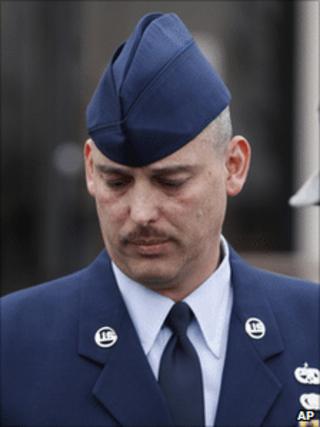 A US Air Force sergeant has been sentenced to eight years in prison and dishonourable discharge for exposing sex partners to HIV at swinger parties.
David Gutierrez had been convicted of aggravated assault and of violating orders to notify partners of his status and to use a condom.
Gutierrez begged a Kansas military judge for a lower sentence, noting he had not infected anyone.
He feared he would be unable to afford HIV drugs without medical benefits.
Denials
But prosecutor Capt Sam Kidd argued on Wednesday he had risked his partners' lives: "The accused was not thinking about how his victims would pay for their medications."
Capt Kidd said Gutierrez was diagnosed with HIV, the virus that causes Aids, in 2007 while stationed in Italy.
The sentence came a day after several women who attended sex parties with Gutierrez and his wife testified they would not have had sex with him if they had known about his HIV status. None testified they had contracted the virus.
They testified he repeatedly denied he had contracted the virus.