Hu Jintao and Barack Obama's conjuring trick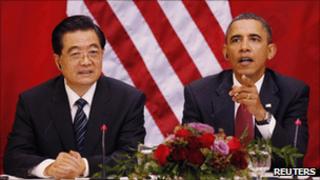 When so much divides you and it's so easy to view yourselves as rivals, how do you convince everyone watching that you're all in this together?
That's the conjuring trick Barack Obama and Hu Jintao have set themselves for this, arguably the most important state visit to Washington in years.
If you're the US president, you start off by throwing every bit of pomp and ceremony at the visit, making sure there are no gaffes (don't introduce the national anthem of Taiwan, for example) and making sure your guest, and 1.3 billion people back in China, know this is a very big deal.
And then you reassure your own public - and sceptical politicians - that you are not acquiescing in the face of human rights abuses and currency-manipulating trade practices.
In the midst of a carefully choreographed day, problems with the White House's system of translation meant Mr Hu appeared to dodge a question on human rights, but only for a while - when the question was put again later, he said he had not heard it before and gave an answer.
For his part, Mr Obama offered a gracious acknowledgement of China's different history and culture, before insisting there were "basic freedoms" about which he would continue to be candid with the Chinese leadership.
'Sell you stuff'
Anyone wanting him to go further, to refer to China's imprisoned Nobel peace prize winner, Liu Xiaobo or to the situation in Tibet - beyond urging Chinese dialogue with representatives of the Dalai Lama - would have been disappointed.
Earlier, pro-Tibet activists mounted a small, colourful protest outside the main entrance to the White House.
Two gaily-painted skeletons mounted on snow leopards, representing a free Tibet, symbolically attacked a green Chinese dragon, causing it to collapse on the sidewalk, amid cheers.
But the protest was safely out of earshot from the formal welcome ceremony on the South Lawn and there was no repeat of the embarrassment caused by a Falun Gong protester who disrupted the same proceedings during President Hu's 2006 visit to President George W Bush.
But it's trade, not human rights, that causes most friction and has taken up most time on this first day.
"We want to sell you all kinds of stuff," Mr Obama joked during the press conference, to a ripple of laughter.
But he really does. And he believes, as many American businessmen believe, that Chinese currency manipulation renders a level playing field impossible.
Mr Obama may genuinely believe that China's economic rise is "good for the world and... good for America," but he also wants to ensure that the two countries' trading relationship is "a win-win situation as opposed to a win-lose situation".
Same point
The notion that it is the latter is deeply entrenched in a country that fears that it is slowly being overtaken by the new global superpower.
Earlier in the week, New York Democratic Senator Charles Schumer said it was essential to confront Chinese currency manipulation "to preserve the American dream".
But Mr Obama was as diplomatic with trade as he was with human rights, acknowledging that the US needed to make its own structural reforms "to make ourselves more competitive in the world economy".
But for all the many irritants which complicate this hugely important relationship, the two leaders were, in their own ways, making the same point: if we get this one wrong, then we are all in a great deal of trouble.
Two countries which together account for a third of the global economy owe it to each other, and to the rest of the world, to show that they can collaborate even as they compete.
Both leaders have stated their desire to make the relationship work. But that doesn't make it any less complicated.