German man admits smuggling live tarantulas into US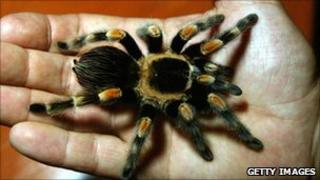 A German man has admitted to smuggling live tarantulas into the US.
Prosecutors said Sven Koppler of Wachtberg posted hundreds of spiders to buyers in the US and across the world, earning more than $295,000 (£184,548).
Among the spiders he sold were Mexican red-kneed tarantulas, a protected species whose export is tightly restricted.
US wildlife investigators arrested him after posing as a buyer. Koppler, 37, faces up to 20 years in US prison.
'Mislabelled parcels'
In court documents obtained by the BBC, a federal fish and wildlife officer said he had learned Koppler was importing tarantulas into the US from Germany and selling them, without declaring them to customs.
Investigators posing as buyers arranged to purchase the spiders from him, and he sent live tarantulas in the post, in parcels declared as gifts or as plastic canisters.
Prosecutors said Koppler was aware the tarantulas were protected and had obtained at least some of them from suppliers in South Africa.
He was arrested in Los Angeles in December after travelling there to meet an associate.