The curious resurgence of US artist Norman Rockwell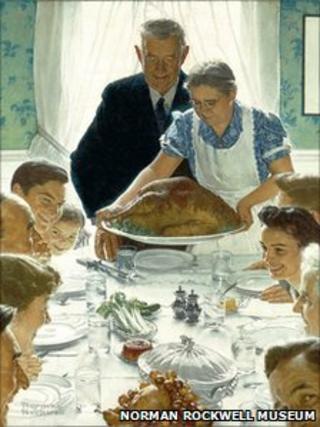 Recent years have seen renewed interest in works by Norman Rockwell, the famed 20th Century American artist behind some of the most nostalgic images of small-town America. The BBC World Service's Nastaran Tavakoli-Far asks why.
Museums on both sides of the Atlantic have hosted his work, a travelling exhibition is touring the country, and now, the Norman Rockwell Museum has opened its archives to the public - online.
Last month, the museum began allowing web users across the world to browse thousands of Norman Rockwell works from the museum's permanent collection - everything from his preliminary sketches and photographs to the famous finished images.
Rockwell, who was born in New York in 1894, started his career as a commercial artist for cards and magazines.
In 1916, he painted his first cover for the Saturday Evening Post, one of the country's oldest magazines, and over the next 47 years he produced another 321.
His iconic works featured a cast of kindly - and almost entirely white - policemen and soldiers, baseball players, quirky neighbours in the state of Vermont, awkward young couples, Christmas homecomings and other images of an America that seems to have receded into the past - if it ever existed at all.
'Post-affluence remorse'
In the past couple of years, America has suffered the worst economic downturn since the Great Depression and seen the election of its first black president, Barack Obama.
Journalist David Kamp believes that as the US has begun to recover from the recession, Americans have gained new appreciation of Rockwell's themes, with its scenes that focus on community rather than ostentatious displays of wealth.
"People have a post-affluence remorse," Kamp said.
"They're thinking: 'What on earth were we thinking with these outsized expectations of what the American Dream is?'
"To go back to Rockwell's vision of the more community-based, and modest, American Dream has the appeal it might not have held five or six years ago."
In addition, changes in the art establishment have encouraged a range of cultural institutions - from the heavyweight Smithsonian Institution in Washington to smaller museums - to host exhibitions devoted to the illustrator, said Blake Gopnik, an American art critic who now writes for Newsweek.
'Relatively safe'
Art historians are increasingly interested in visual culture rather than simply "great" works of art, he said. And the drive for funding encourages institutions to host shows by artists who will get visitors through the door.
At the same time, institutions are increasingly wary of potentially controversial works, instead favouring relatively safe artists, he said.
Museums and galleries are keen to avoid reaction like the fallout from David Wojnarowicz's video at the National Portrait Gallery in Washington. The late American artist's piece, which featured a short series of images of ants crawling over a crucifix, was removed from a show on "sexual difference" in American portraiture amid protests from conservative politicians.
While people may now be taking more interest in Rockwell's vision of the American Dream, critics remind audiences to remember it remains just that: an ideal.
Montage artist Winston Smith says these images have never been about a real America of a bygone era. After all, Rockwell wrote in his journals: "I paint life as I would like it to be."
Famed for collages involving Rockwellian imagery in satirical compositions, Smith aims to show the American Dream gone wrong, rather than critique these values shown by Rockwell.
Rather, he sees those as admirable but possibly unachievable.
"A 'dream' is just that," he says. "A state of unconsciousness, a hypnotic state of blissful ignorance.
"People may long for the comfortable, colourful world represented by images of happy middle-class white people living in an affluent society with an ever-expanding economy, but it wasn't real then and it's certainly not real now."
'Missing'
Furthermore, some of the foundations of the American identity are hard to find in Rockwell's scenes of shabby yet adorable teen athletes and happy mothers.
His works give little credit to the very composition of American society: a country made from an ambitious and diverse mix of people with the drive to take risks and to innovate in order to progress.
"What's missing from this notion?" Gopnik asks. "Almost everything: black people, intellectuals, non-intellectuals, Jews, communists.
"The most important thing lacking is courage," Gopnik continues. "The willingness to try something new, that's been central to what's made America a successful country."